The Great Flood At MVMS
By Jessica Lederman, Marblehead Beacon Contributor
It felt a little bit like Noah and his ark should turn up today on the third floor of Marblehead Veterans Middle School (MVMS). With a storm raging outside, water began pouring from the ceiling in one of the third floor corridors.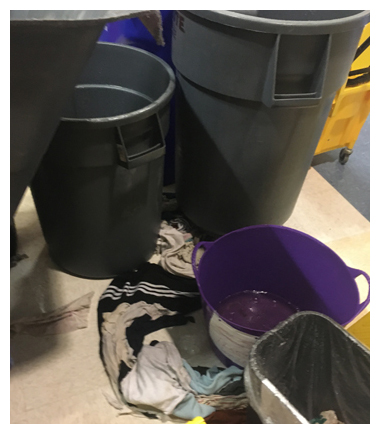 Instead of heading to their fourth block classes, students gathered in the hall around a rapidly increasing puddle of water. Trash cans and large buckets were brought to the third floor to contain the water and prevent it from spreading further across the floor. There was some concern about the risk of a student or teacher slipping and falling. As the water continued to increase, a tile had to be removed from the ceiling. Mops and rags were brought into service, and there was a rumor that clothes from the MVMS lost and found were used as well.
The building housing Marblehead Veterans Middle School was previously Marblehead High School. Built in 1903, the building was converted from a high school to an upper middle school for grades seven and eight in 2003. A significant majority of town residents voted in favor of the renovation. It was completed at a cost of $22.6 million, with the state reimbursing at least half.
The MVMS roof appears to have deteriorated since it was replaced as part of the renovation project back in 2003. At the September 20 meeting of the Marblehead School Committee Facilities Subcommittee, one of the projects discussed was a plan to replace the roof of the MVMS D wing. Bids are being received for this project now. 
The work will hopefully begin soon. MVMS students will have to hope there isn't another rainstorm before then, or they might just have to wear their raincoats to class.
Jessica Lederman is an 8th grade student at Marblehead Veteran's Middle School.