Marblehead High's Greg Motorny Named "Hot Prospect" After Standout Performance At National Showcase
By Dwight Robson, Marblehead Beacon Contributor
As the defending Super Bowl Champions and the state's top-ranked football team in Division 3 at the start of the past season, Coach Jim Rudloff's squad was loaded with superior athletes. Many names—headlined by senior Connor Cronin—are easily recognizable to the team's casual fans, but there were other significant contributors who by nature of their positions are more likely to be overshadowed. One of those somewhat hidden stars—junior kicker and punter Greg Motorny—was recently named a college "hot prospect" for his standout performance at the Kicking World National Showcase in Austin, Texas.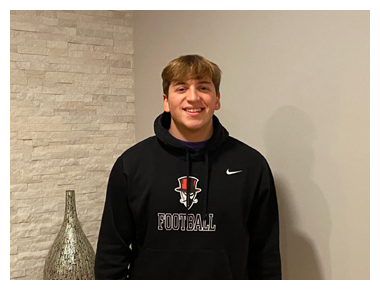 Motorny, who shares the nickname "Greg the Leg" with NFL kicker Greg Zuerlein, was one of 85 high school kickers and punters nationwide invited to the showcase. Of the 74 student athletes who accepted the invitation to compete before an audience of college scouts during the two-day event, Motorny won the punting elimination event, while finishing in the top 10 in most of the other events.
Astute fans of the gridiron Magicians are certainly aware of Motorny's strong right leg and appreciate his significant contributions to the team's success throughout the season via his long and majestic punts that frequently flipped field position, booming kickoffs that so often eliminated the threat of a return, and straight-as-an-arrow point-after attempts following a Marblehead touchdown. When one of his kickoffs is returned, Motorny doesn't shy away from contact—despite suffering an avulsion fracture in his hip while making a tackle during his freshman year. This past season, he had tackles against Beverly and Peabody.
Standing out as a kicker/punter in Massachusetts, however, is nothing compared to the competition Motorny faced at the showcase, where players who are able to kick year-round from the football hotbed states of California, Florida, Georgia, and Texas, among others, provided an elite measuring stick. And Greg the Leg out punted them all, averaging nearly 42 yards and 4.34 seconds of hang time per punt. With an overall score of 89.54, Motorny finished almost five points ahead of the runner-up. He also performed very well in the field-goal competition, converting seven straight from 30- to 50-yards away (the winner was successful from 55 yards).
Despite Greg being relatively new to kicking and punting—as a sophomore he played on the offensive and defensive lines for Marblehead's junior varsity football team—and lack of specialized coaching, Coach Brent Grablachoff, owner of Kicking World, says he wasn't surprised by Greg's performance.
"As we only invited 85 students…we expected all attending to be at an elite level," Grablachoff tells Marblehead Beacon. "Greg surely did not disappoint. I was thrilled to see him excel so much in punting in particular."
Asked whether he prefers punting or kicking more, it was clear that Motorny faced a difficult choice. "I am better at punting, but I love kicking," he says.
Grablachoff, whose former clients include players who earned scholarships at football powerhouses Clemson, Georgia, and Texas, as well as others who kicked for a living–including placekicker Jason Saunders of the NFL's Miami Dolphins–believes Motorny has a high ceiling with ample opportunity to improve his kicking and punting.
"As Greg has only gotten into kicking/punting within the last approximately two years, I think this opens up a lot of growth potential," Grablachoff adds. "Combined with his athleticism, willingness to learn and improve, and just time in general to let things click, he should start seeing even better numbers and consistency going into his final high school season. I don't doubt that he will be playing somewhere in college."
Motorny, whose favorite NFL player is—no surprise—kicker Justin Tucker of the Baltimore Ravens, left no doubt that he hopes to kick and punt in college. "Any D-1 school would be awesome," he says. "And a D-2 school would be amazing too."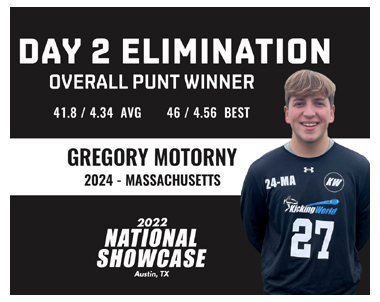 While has hasn't had specialized coaching to date, Motorny credits his Marblehead coaches for helping him get this far. In addition to Coach Rudloff, who he says sets aside time at each practice to cover  "every scenario" in the kicking game, Motorny highlights the guidance he has received from assistants Steve Lewis and Will Quigley.
Despite their coming up just short in this year's playoffs to top-ranked Milton, if the Marblehead football team were a stock Motorny would rate it a clear buy. While acknowledging that the team will lose some "really good players" to graduation, he doesn't hesitate in saying, "we're going to be even better" in 2023.
In the meantime—showing no signs of complacency after his standout performance in Texas—Motorny says he has a lot of work ahead of him this winter and spring to improve his strength, flexibility, and kicking techniques.
"Coach Rudloff is really big on players earning their spot," he says. "if I don't put in the work, I won't have the job" next season.