MHD Basketball "Tip Off" Night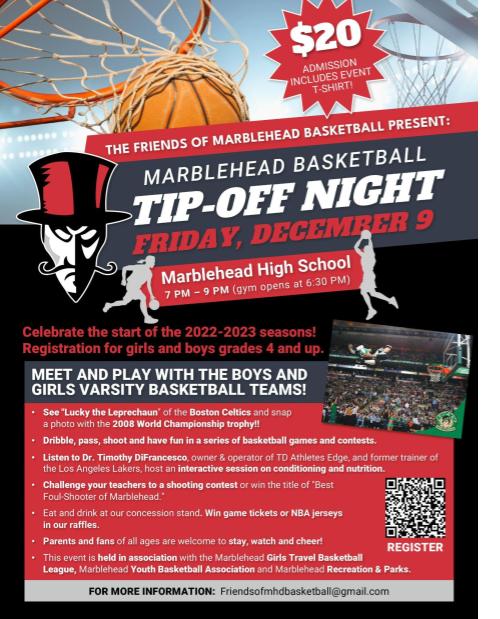 Come dribble, shoot, cheer and have fun at the first "Marblehead Basketball Tip-Off Night" on Friday, December 9th at Marblehead High School.  Doors open at 6:30.
Meet "Lucky the Leprechaun" of the Boston Celtics and get a picture next to the 2008 NBA Championship Trophy!  A night to celebrate the season's start for the entire Marblehead basketball community; girls, boys, youth programs and high school teams.  Parents and fans of all ages are welcome to stay, watch and cheer!  Boys and Girls grades 4 and up are invited to register with Marblehead Recreation & Parks.  A $ 20 entrance fee includes a Marblehead Basketball t-shirt and photo.  All proceeds go to the Friends of Marblehead Basketball, a non-profit organization, committed to generating funds and awareness for Marblehead Basketball.    
"Coach Moran and I are so excited to start a new tradition and have the entire Marblehead basketball community, players, fans and parents, together for one night to mark the start of the season!  We welcome kids of all ages, whether on a basketball team or not, to join us and have a fun night at Tip-Off.  We're also very appreciative of the generous support from the Celtics, which will only make the night more special and memorable.  We hope to see everyone there!" said Coach Michael Giardi, Head Varsity Boys Basketball Coach. 
Food and drinks will be available at our concession stand.  Raffles for NBA jerseys and Patriots, Celtics, Bruins and Red Sox game tickets to be drawn at the conclusion of the event.   
Challenge a teacher to a lay-up, win the title of "Marblehead's Foul Shooting Champion," or learn from Tim DiFranceso, former trainer of the LA Lakers and owner/operator of TD Athletes Edge.  No basketball experience is required to participate and have fun at Tip-Off Night!
This event is held in association with the Marblehead Girls Travel Basketball League, Marblehead Youth Basketball Association and Marblehead Recreation and Parks.