Major Multi-Family Zoning Changes Ahead? Town Listens to More Resident Input
On Thursday, November 2, 2023, the town's Planning Board, chaired by Bob Schaeffner, held an in-person public meeting at Marblehead Veterans Middle School. The agenda included a presentation by Town Planner Becky Cutting, followed by breakout sessions for those in attendance. The goal of the meeting, said Cutting, was to gather more stakeholder input before the Planning Board ultimately puts together a recommended Town Meeting article to implement the 2021 state MBTA Communities Zoning law that requires massive zoning changes for Marblehead and 176 other municipalities. The presentation, according to Cutting, was in essence the same as the one made at the previous week's meeting, with a few small tweaks. 
The purported goal of the 2021 law, as previously reported by Marblehead Beacon, is to address Massachusetts' housing shortage by forcing certain municipalities to zone for significantly more multi-family homes. Once Cutting and the Zoning Board gather input from various relevant parties, they will craft a plan to send to voters to approve at next May's Town Meeting. A preliminary stakeholder-input meeting was held via Zoom on October 26th, and featured dozens of residents presenting their questions and comments in an electronic chat, with Cutting addressing each concern one by one. 
Cutting, who is retiring early next year and currently has no successor, said that Marblehead has received a new grant from the state to pay for an engineering firm to take a second look at potential locations in which to change zoning to allow for approximately 900 multi-family units. A previous grant had covered the cost for the engineering firm Bohler to examine a single area. It is unknown, Cutting told Marblehead Beacon, whether Bohler will handle the next study as well. 
The new law requires that Marblehead zone a minimum of 27 acres—in increments no smaller than five acres—for "as-of-right" multi-family zoning. As Marblehead's zoning laws currently stand, with few exceptions, all multi-family zoning requests require an involved process with no guarantee of approval. "As-of right" zoning—while still mandating certain basic standards —would require a more automatic approval for multi-family homes in the designated areas.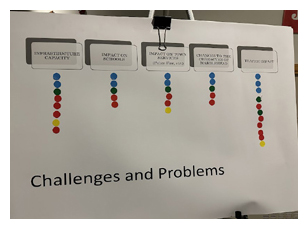 In the breakout sessions last night, stations placed around the Veterans School Performing Arts Center (PAC) offered various displays on which those present could place stickers indicating their interest in certain topics. Members of the Zoning Board were dispersed around the PAC to answer questions and explain the various considerations.
One station displayed a map of the town, and stickers distributed at the start of the meeting could be placed on preferred areas to consider for multi-family zoning. In another display titled "Challenges and Problems," five columns specified potential issues and participants were invited to place their stickers under any they deemed important. "Traffic Impact" received the most stickers, with "Infrastructure Capacity" a close second.
Other stations addressed the potential positive impacts and sought input about which type of multi-family buildings—including high rises, duplexes, and other types—would be most preferable.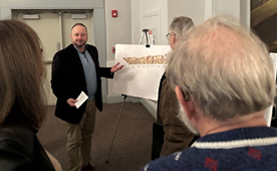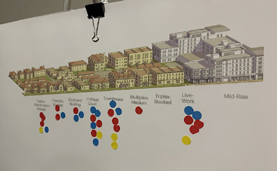 The sticker approach was not without its flaws, as one person was overheard requesting more than the allotted number of stickers, and another stating that he had placed stickers under everything. It was therefore not entirely clear what the majority of the approximately 50 to 60 people present believed to be the most pressing concern or the most viable area or areas for multi-family zoning. After the break-out sessions, everyone reconvened and Cutting went over some of the sticker input. Several individuals registered their desire to see any ultimate zoning changes include affordable housing. 
Under the MBTA Communities Zoning Law, specifically designated affordable housing is not required, though municipalities may opt to include such provisions at their discretion and cost. The apparent rationale behind the MBTA law is to have so much new housing availability across the Commonwealth that by virtue of supply and demand, much of the housing will automatically be affordable. But the actual creation of legally designed affordable housing is not present in the statute. 
Louis Meyi, who sits on the town's Housing Production Plan (HPP) Implementation Committee as well on the Marblehead Racial Justice Team, spoke with Marblehead Beacon, but specifically stated that he was speaking strictly in his capacity as a resident. "Half of households led by seniors 65 or older have less than $60,000," Meyi shared. As the new law is implemented, he said, he would like to see affordability be a focal point.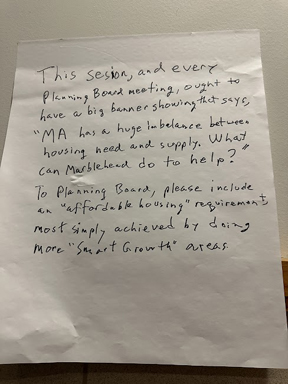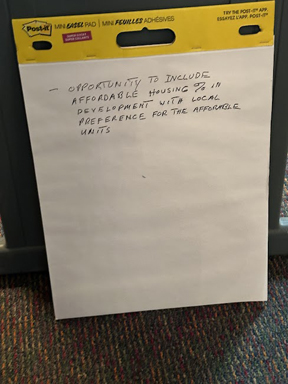 Planning Board member Marc Liebman believes that having multiple opportunities to engage with the public will be fruitful in terms of determining the best path forward. "Something has to happen; you can't just say 'no'," Liebman told Marblehead Beacon, referencing the state's mandate. "The idea is to give everybody the opportunity to voice their opinions as much as possible, given the fact that we're constrained by a pretty specific mandate, and we utilize that when we move forward." 
Moving ahead, Cutting anticipates seeking significant additional input from the public, which will include engaging with architects, local real estate professionals, engineers, focus groups, the various town utilities, affordable housing communities, and more. Joe Kowalik, the General Manager of the Marblehead Light Department, was present at Thursday's meeting, and will be one of several individuals representing the different town utilities to advise as to how things like drainage and power could be impacted by increased density in various parts of town. 
As things stand, Planning Board meetings to gather stakeholder input on the implementation of the new law are either in person or via Zoom. Cutting noted, however, that should the state offers additional grant money with which the Town can hire a facilitator, there could be hybrid meetings as well. Regardless, Cutting and Schaeffner are planning to schedule multiple future meetings, with dates to be determined. 
Editor's note: School Committee member Jenn Schaeffner is a Marblehead Beacon founder and editor. She is recusing herself from Marblehead Beacon's coverage of the School Committee and anything pertaining to Marblehead Public Schools. Schaeffner also serves as a member of Marblehead's Housing Authority. Her husband, Bob Schaeffner, is the Chair of the Planning Board.