Public Zoom Meeting Tonight About MBTA Multi-Family Zoning
The Marblehead Planning Board invites the community at attend an online public session tonight, Thursday, October 26, 2023, to hear a presentation on the MBTA community zoning proposals and to provide public input.
As Marblehead Beacon previously reported, a new Massachusetts law requires that Marblehead and 176 other communities across the Commonwealth change the town's zoning bylaws in selected districts to allow for multi-family housing.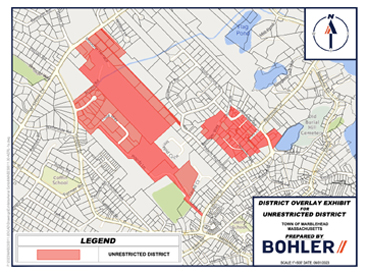 According to a memorandum produced for Marblehead by Bohler Engineering, the town has identified an overlay district in the northern part of town (see nearby image) that is being considered as the target area for the zoning changes. The area currently under consideration comprises approximately 49 acres and would allow for the addition of 940 new units to Marblehead's housing stock. The law requires zoning changes to allow for multi-family housing "as-of-right," meaning without the need to obtain "a special permit, variance, zoning amendment, waiver, or other discretionary zoning approval."
Town Planner Becky Cutting notes that Bohler's recommendations about the implementation and location of these changes are not the final word, and that no decisions will be made without public input. Any proposed amendments to the town's bylaws would need to be approved by the community at Town Meeting.
The proposed zoning changes have also impacted conversations at the Marblehead School Committee, particularly in regard to the disposition of the Coffin School property. The Coffin School has been closed since October 2021 when the Brown School opened. However, School Committee members have expressed concern that the potential addition of up to 940 new housing units in town could necessitate additional space to educate the children who might live in the new units.
The Coffin School property is located at 1 Turner Road, very close to the area of town that has been identified as a potential zone for multi-family housing to comply with the MBTA zoning requirements.
The Marblehead Housing Production Plan, which was adopted by the Select Board and the Planning Board in 2020, lists the Coffin property as a potential site for increasing housing availability. Select Board Chair Erin Noonan—in her role as a member of both the Fair Housing Committee and the Housing Production Plan Implementation Committee—recently wrote a letter to the School Committee indicating that the goal is to use Coffin to offer "affordable housing and increase the diversity of housing choices in town beyond just single family homes."
The Planning Board meeting tonight can be accessed via Zoom by following this link. The agenda is available here. 
Editor's note: School Committee member Jenn Schaeffner is a Marblehead Beacon founder and editor. She is recusing herself from Marblehead Beacon's coverage of the School Committee and anything pertaining to Marblehead Public Schools. Schaeffner also serves as a member of Marblehead's Housing Authority. Her husband, Bob Schaeffner, is the Chair of the Planning Board.