Teen Entrepreneur: The Kindling Kid
It started off as a Father's Day idea that Alex Orloff had when he was 12 years old. "My dad and I loved to build bonfires together, so I looked into getting him a wood chopper." The roughly $100 gift became the foundation for a business idea that was born during the pandemic, some three years later. 
The 6'3 rising high school senior has always been somewhat of an outdoorsman, lobstering in the summer and skiing in the winter. So back in 2020 he decided to grab some leftover wood at his family's condo in Vermont and cut it with the chopper and a sledge hammer using the skills he'd learned with his dad. "I made ten bundles that first time," he said. Then Orloff went door-to-door to neighbors in Vermont and sold all ten bundles easily. 
"I decided to try to do the same thing back in Marblehead, because so many people were sick of being inside during the pandemic and wanted to sit outside by a fire." So Orloff ordered his first half cord of wood from a local nursery and went from there. He made up dozens of bundles, which involved sorting through the wood and disposing of the ones with knobs and imperfections, cut the good wood in his family's basement workshop, and put the kindling together in bundles of 25 pieces. 
Orloff began by using his mother's friends as a springboard to get some traction. "I asked her to text anyone who might need kindling," he said. It turned out that quite a few people were in the market for exactly what he was selling, and before long he had sold his supply, named himself The Kindling Kid, and was taking future orders. 
In the beginning of his business venture, Orloff relied on his parents to drive him around to make his deliveries, but now that he's a licensed driver, he makes every delivery himself. It's a simple process to order, he told Marblehead Beacon. Customers either text him their orders or reach out via his Instagram page, and he offers door-to-door delivery. Orloff is able to make approximately ten bundles an hour, he says, which means that over the summer he does financially better in a few hours of cutting and assembling the bundles than he might with a standard job. Having himself as his own boss helps focus Orloff's summer mornings, he says, because he is up at 5:30 AM to head to daily football practice, after which he knows he must come home, head downstairs, and work to build up the stock of bundles. 
In the early days of Orloff's venture, he sought out help from Kristen Balunas, a local graphic designer, to create a logo for his growing business, and reached out to Shubie's and Ace Hardware–both of whom agreed to carry his kindling bundles. 
It was not long before people started inquiring about "merch," and Orloff used his new logo to get sweatshirts made. He sold thirty in his original offering, and is planning to expand to t-shirts and hats because "not everyone wants to wear a sweatshirt." Orloff has plans for further expansion of The Kindling Kid, including a possible Farmer's Market table and potentially selling his product at Winter Island in Salem, where people camp in the summer. 
Orloff will be starting senior year at Marblehead High School in the fall, and knows that college is around the corner. The future business major does not see letting go of The Kindling Kid when he heads to college, and currently is considering options for maintaining ownership of the business. Among the possibilities, he says, is having someone take over the daily operations as he continues to provide oversight. "The fall–basically from September to January–is my busy season." He is also thinking about a scenario in which he creates a large supply prior to leaving for college, and works to re-stock whenever he's home for breaks. 
Whatever Orloff does down the road with The Kindling Kid, his entrepreneurial spirit likely will make this only the first of many successful business ventures.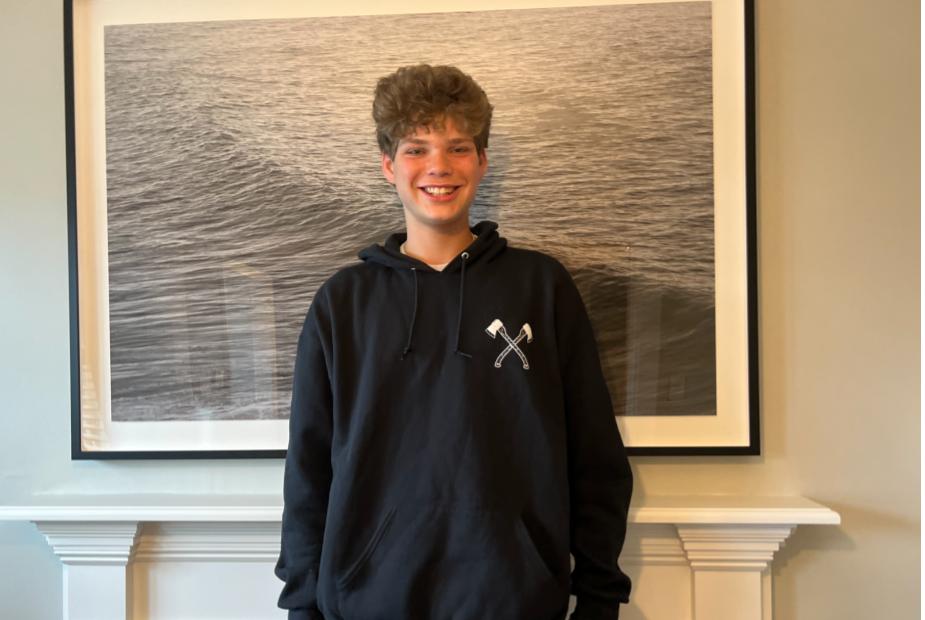 To post a comment, please login. If you do not have an account, please create one.