Armini Emphasizes Green Initiatives at State House
Marblehead resident, Democrat Jenny Armini, was elected to her first term as State Representative for the 8th Essex District in 2022 after former Representative Lori Ehrlich resigned to take a federal government position. Marblehead Beacon spent a morning with Armini to learn about her goals, ideas, and musings after her first month on Beacon Hill. We met Armini in the entrance lobby at the State House and headed down to the basement, where she is temporarily housed in an unused hearing room with several other "rookie" representatives. She shares a folding table with her legislative aide, Liam Moorehead, while awaiting a more permanent location.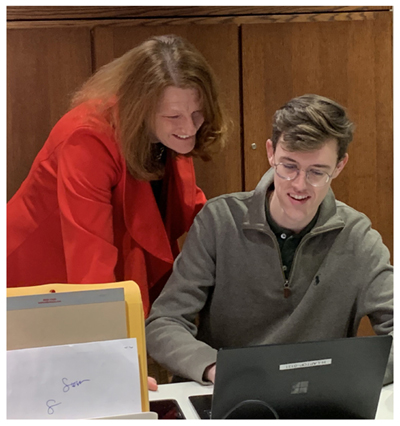 "The legislature is a complex organization, but it is welcoming and responsive," says Armini, "and by 'responsive' I mean responsive to its members and…to constituents." She and her colleagues, Armini notes, "are always talking about the needs and the concerns of constituents," and it is one of their top priorities "to get back to constituents as quickly and as competently as possible. There is a real desire to serve."
Though she is only a month in, Armini says she has already begun the important work of forging relationships. This comes, she says, from being present both in the district–where she plans to spend most of her time–and at the State House, where she envisions spending one to two days per week even when the House is not in formal session. Casual conversations and connections, Armini notes, can yield partnerships. Representative Steve Owens (Cambridge, Watertown) and Armini struck up a conversation about climate-change issues, for instance. He had picked up a House bill that former Representative Ehrlich had previously sponsored and now Armini is partnering with him on the bill. "This is a relationship business," she says.
Our conversation continued as we walked to the Hall of Flags, the State House Library, and finally sat down at Armini's seat on the floor of the House.
Armini notes that she is awaiting committee assignments, a process by which the House leadership assigns representatives to various committees. She has requested the Telecommunications, Utilities, and Energy Committee (TUE) with the understanding that, as a rookie, she may not get her first choice. After assignments, the hearing process begins, which will require more time on Beacon Hill, as every bill filed in Massachusetts receives a committee hearing. 
Armini's desire to serve on the TUE committee is motivated by the fact that most climate-change legislation passes through this committee and, she notes, the 8th Essex district is entirely coastal. There is a need for "urgency," Armini believes, to meet the state goal of "net zero" greenhouse gas emissions by 2050. "The net zero 2050 goal is not just realistic," Armini says, "it is absolutely critical. The pace of technology in this area is dizzying. We as a community have to take advantage of the emerging technology. As a center of education, we are in a unique position to lead on this issue."
When asked about the need for power generation, particularly for the Marblehead Light Department, and the current inability to source all needed power from renewables, she says that eventually it will "absolutely [be] possible–the wind industry is new and growing; we are increasing our solar capacity. The future of power is with large solar farms." She emphasizes the need to think creatively–including about battery capacity. She would, however, "not shut the door on nuclear energy. In particular, nuclear can be used as a bridge fuel."
Armini points out that by 2035 we will not be selling combustion engines in Massachusetts. "You will not be able to buy a new gas-powered car in 2035." Noting that Massachusetts has allocated $400 million for expanded electric vehicle charging stations, Armini says that she is sponsoring a bill to require that they are safe, well lit, sited in visible locations, and accessible for those with disabilities. "Vehicles need to be easily and safely charged—this isn't a nicety; this is our reality. We have got to work quickly and adapt and do our best." 
When asked about other nations across the globe that are not embracing climate change policies, Armini notes that "we are responsible for us. Yes, I would hope that our political leaders are doing that work with China and India, but I have got to do what I can do now. Massachusetts can be a leader...These are new jobs. This is a new opportunity. This is not tying our hands. This is freeing us to build our economy in a new way." Armini adds that she also is co-sponsoring a bill related to promoting solar panels on school buildings and another bill for recycling boat-wrap material.
When asked how, in her role as state representative, she will help the town of Marblehead in particular, Armini explains that her "goal is to be the conduit from the town to the Legislature" and to help find resources that help the town meet its goals and fulfill its own needs. She wants to be the "resources and the representation," particularly given the Town's history. "Marblehead has a unique voice to share with the legislature." 
Asked her perspective on Marblehead's management after having attended the "State of the Town" presentation on February 1, Armini replies, "I am very hopeful that our new Town Administrator is putting together a team that will lead us to a sound fiscal future." Regarding a likely Proposition 2 ½ override to increase Marblehead taxes in 2023, she notes, "As a voter, it seems clear that Marblehead needs more resources to even cover its contractual obligations. If an override is required to do that, I will certainly vote for it."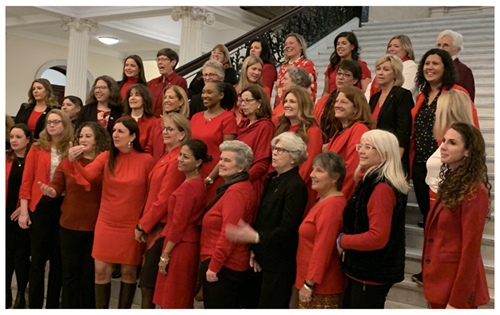 In the middle of our interview, we took a detour to the main staircase at the State House for an American Heart Association (AHA) event. The AHA was raising awareness of women's heart health, and a large number of state reps were in attendance, most having donned red clothing to demonstrate bipartisan support. During the speeches and photo ops, it was clear that Armini has made connections to many colleagues, particularly within the North Shore delegation. 

Armini has committed to ongoing communication with our district, and Marblehead Beacon will continue to report on her efforts.