Calling All Girls: Marblehead's Troop 79G Recruiting New Scouts
Photo above (l-r): Katie Jenkins, Jennifer Stoddard, Melanie Wilson-Lloyd, Zoe Gast
By Mitchell Robson,

Marblehead Beacon

 Contributor
On Saturday, Troop 79G, the girls' division of Marblehead's Boys Scouts of America Troop 79 (now referred to as Scouts BSA), held a recruitment event to introduce community members to girls-in-Scouting opportunities. Since 2019, according to Troop 79G leader Jennifer Stoddard, recruitment has been steady. They began with three girls, and are now up to eight, which, "percentage-wise," she says, "is really good." Stoddard's daughter, Katie, was one of the first two girls to join Troop 79.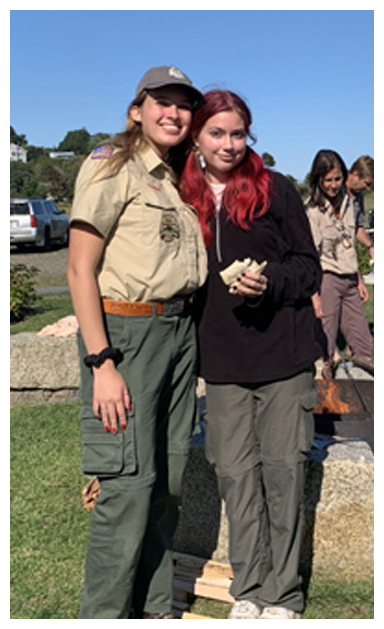 Scouting in Troop 79: 79G and 79B
Both 79G and 79B meet together on Tuesdays and go on joint camping and hiking trips. The distinction between the two comes into play mostly with regard to camping, where the boys and the girls have separate areas for their tents and camping equipment. A female troop leader or trained volunteer (and sometimes more than one) accompanies the girls. But for many of the activities–including evening meals and campfires–the groups come together for shared Scouting experiences. 
For Georgia Lloyd, 18, whose brother Wilson–now in college–was a Boy Scout, being able to follow his lead and join Scouts BSA was a tremendously positive development. "As a young girl, I had watched him do archery," she says, wistfully. While she was allowed to join him in the Pinewood Derby, nothing was official. "I learned the Boy Scout oath and code at a young age," she adds, and joined on Scout family camping trips, where she learned to love everything about the experience. So when she was finally able to join in 2019, it was a natural fit. 
COVID-19: A Setback, Not a Derailment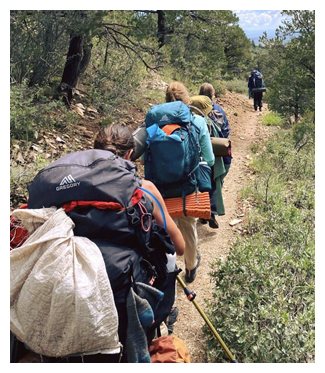 While COVID-19 created a setback for the new troop, as they "hadn't yet had a chance to try out our dynamics," says Lloyd, the girls weren't deterred from keeping things in motion; they met weekly online until they could resume family camping, where families would camp as distinctive units. The group, along with their male counterparts in 79B, have since returned to the original meeting place of Troop 79–the Clifton Lutheran Church–where they convene every Tuesday.
Philmont: A Rite of Passage for Scouts
This summer was the first in which Troop 79 brought a contingent of girls to its most well-known and intensive hiking and camping destination–New Mexico's Philmont Scout Ranch. A rite of passage for Scouts ages 14 and up across the country, the trip involves 12 days and dozens of miles of hiking as well as camping, cooking, and team building in the backcountry. Troop 79 sent three crews: two with seven boys each, and one crew of five girls. They began the course together, and then each crew took its own distinct route for approximately one week.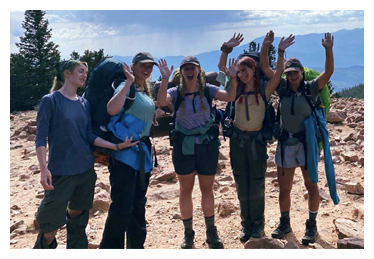 "I was designated the chaplain of the group," says Lloyd, sharing that among her jobs was to "keep the peace" within her group. "Norming, storming, and performing" were the three stages Lloyd was tasked with managing, she says. "Norming" involves the group getting accustomed to each other; "storming" is when some time passes and team members start to experience some annoyance or conflict; and "performing" describes the period in which the crew gets over the first two humps to become efficient and fast. "They never went through phase two," says Lloyd. 
Melanie Wilson-Lloyd, a Troop 79G leader and Georgia Lloyd's mother, remarks that the camaraderie among the girls at Philmont was special. "They were singing up the mountain," she says, adding that they completed the entire setlist of Hamilton. Wilson-Lloyd also notes how much they enjoyed connecting with other female crews from Washington and Virginia.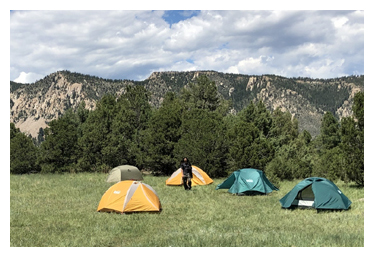 Troop 79 Leaders Offer Warm Welcome to Girls 
Frank Massaro, longtime volunteer Scoutmaster of Troop 79, gladly took Troop 79G under his wing, according to both Stoddard and Wilson-Lloyd. "Frank and other troop leaders have worked really hard" to make sure 79G was seamlessly integrated into the rest of the troop, offers Stoddard. His touch, Wilson-Lloyd notes, is something she emulates in her own parenting. "He never yells," she says, "but everyone listens." Massaro "has a magic way of getting his point across without making kids feel bad," she says, pointing out that his leadership is about teaching. He sees the value of making things fun and not merely getting by, she notes, referring to a recent trip the girls took to the grocery store. Before every camping trip, Scouts create their own menus and go grocery shopping for their supplies. On a recent trip, the girls decided on a menu of mac and cheese and chili. Massaro offered them the option to mix things up, Lloyd says. "He asked the girls: 'how about something like steak au poivre and fingerling potatoes with garlic?'"
Future Eagles
Troop 79G hopes to have its first Eagle Scout soon, which would be quite the milestone given that, according to Scout leader Andy Barnett, only four percent nationally–and 55 Scouts in Troop 79's 37-year history–have achieved Eagle. Currently, the girls have three Star Scouts who are all on the way to becoming Life Scouts (the penultimate rank to Eagle). To attain Eagle, a Scout must by his or her 18th birthday–among other things–earn a minimum of 21 merit badges, serve in a leadership position, complete multiple hours of service, and plan and execute an extensive service project of his or her own. Barnett, who has worked tirelessly for years to oversee Scout projects, looks forward to seeing girls graduate to Eagle status. 
In the young history of girls being part of Scouting BSA, it is clear to Wilson-Lloyd that the activities they do "normalize being human and connecting with each other." Engaging in the outdoors is especially important to Wilson-Lloyd because of her own daughter's experience joining what was once her son's all-boys troop. "Nature is the greatest equalizer," she says. 
As to Stoddard and Lloyds' joint hope that they can recruit more girls to Troop 79G, Wilson-Lloyd quips, "[it's being] a girlboss in a different way." 
For anyone interested in Scouting, Troop 79 is welcoming new members. More information on the troop may be found here. 
Editor's Note: The author has been in Scouting since first grade. Now a junior in college, he attained the rank of Eagle Scout with Troop 79 in 2020.