Election Results: BOH & Light Commissioner + Q1 Passes, Q2 Fails
UPDATE: at 12:54 PM on 6/22/22:
After the addition of the hand counted photocopied votes, Jean-Jacques Yarmoff and Michael Hull beat incumbent Walter Homan in an extremely close race. 
In another race that was too close to call until very late, incumbent Helaine Hazlett barely beat out Thomas McMahon in the election for Board of Health. 
UPDATE: 11:27 AM (Wednesday): The spreadsheet with detailed vote counts has been updated to include hand counted votes for certain races. 
UPDATE: 12:26 AM (Wednesday): Marblehead Beacon awaits final tallies of hand-counted ballots in photocopy form (see story below about polling places running out of ballots hours before voting was to end). Thus far these numbers have not been released. 
UPDATE: 11:12 PM: Town Clerk Robin Michaud tells Marblehead Beacon that all hand counts are complete in Precincts 1, 2 & 3 and she is awaiting Precincts 4, 5, & 6. 
UPDATE: 10:41 PM: See bottom of article for unofficial results broken down by precincts.
UPDATE 9:30: Officials are hand counting ballots, and as of 9:30 PM, reportedly have an hour remaining due to the polling places running out of ballots earlier today. Photo copies of ballots were used in place of actual ballots, and could therefore not be scanned into machines.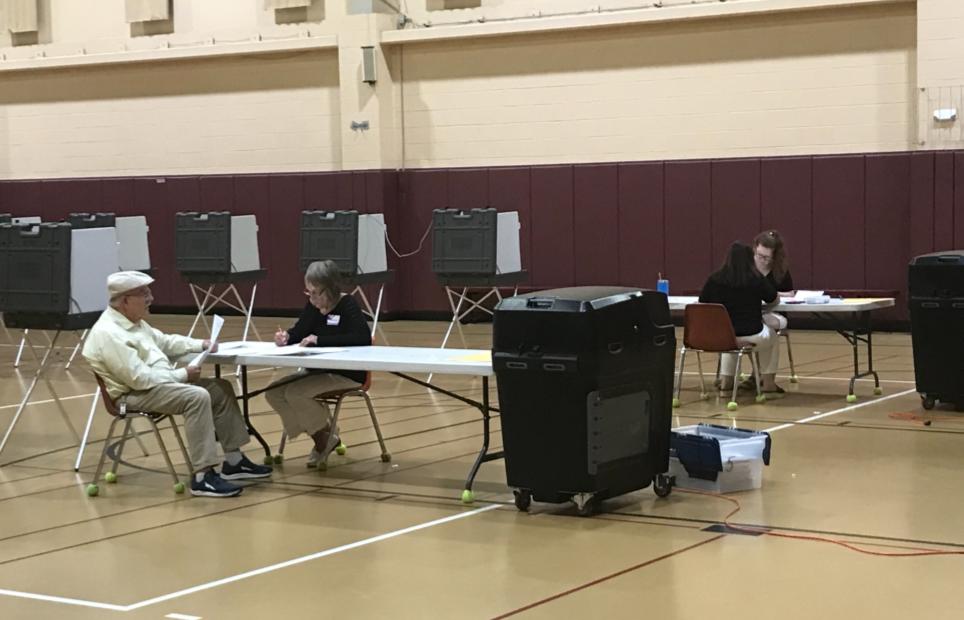 Unofficial results show Question 1 PASSES easily, and Question 2 FAILS by a significant margin. Hand-counted ballots remain untabulated. 
Unofficial results of the town election are in. Some results are outstanding as the Town reportedly ran out of ballots and are hand counting an estimated 200 to 500 photocopied ballots. 
After the polls closed at 8:00 PM this evening, the tally sheets for the scanned numbers were made available by the Town Clerk staff, and show the unofficial results of the races as well as the two ballot questions. 
 
Incumbents prevail: In the Select Board race Jim Nye topped the ticket. Erin Noonan came in next, followed by Alexa Singer, Moses Grader, and Jackie Belf-Becker. Brett Murray and James Full finished sixth and seventh, respectively. 

In the School Committee race, Sarah Fox and Alison Taylor easily prevailed over Reece Dahlberg.
In the race for the Town Moderator, Jack Attridge prevailed over Matthew Wolverton by approximately 500 votes thus far. 
In the race for the one-year unexpired term for Cemetery Commission, Pam M. Petersen defeated Rose Ann Wheeler McCarthy. 
 
These results are unofficial. This story will be updated when the official results are posted by the Town Clerk's office.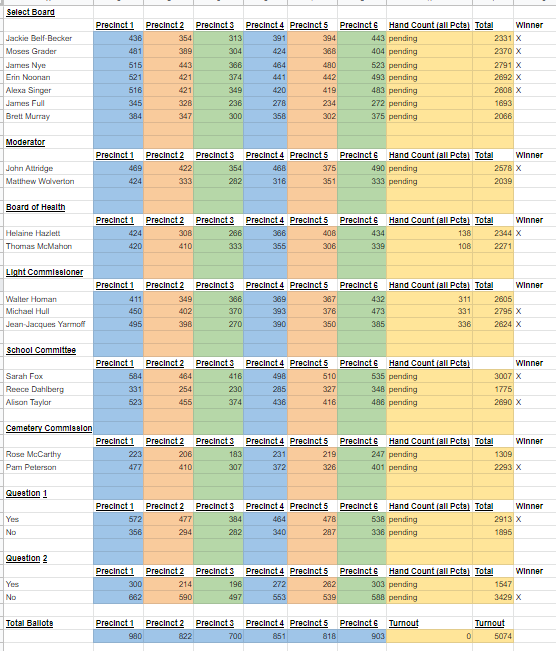 Editor's Note: In the original version of this article we incorrectly switched Erin Noonan and Alexa Singer. 
Editor's Note: An earlier version of the graphic included in this article incorrectly showed Walter Homan rather than Michael Hull as the winner of the Light Commissioner race.