"Real Housewives" Comes to Marblehead: Dorinda Medley Guest at Local Boutique
Say "Dorinda" to a Bravo TV fan and no last name is needed. The Real Housewives of New York cast member, Dorinda Medley, paid a visit earlier this evening, January 20,2023, to local Atlantic Avenue boutique, Chic Streets. Billed as a Mix-and-Mingle event, the store was jam-packed with fans of the immensely popular Housewives franchise, as well as Dorinda-loving women. 
Medley spoke with Marblehead Beacon about visiting the store, as well as the popular memoir she wrote titled "Make it Nice," which is also a tagline for which she's well known among her watchers. "Writing a book about your life is hard," she says, "but it really makes you reflect." And reflecting is something she's had to do multiple times in her 56 years. Most recently she was "put on pause" by Bravo TV producer Andy Cohen for the upcoming Real Housewives of New York season. But Medley, who has been through significantly more trying times, takes the development in stride. "My mother told me to never be an oak tree; always be a willow, because willow trees bend." The mother of a daughter in her late-twenties–Hannah–Medley has suffered losses and setbacks. Years after divorcing Hannah's father, she married Richard Medley, whose untimely death only a few years after their wedding was devastating, but she regrouped, and found her independence. "At 40 I never thought I'd be on TV, but at 50 years old, I started on the Housewives," she says. "And you never know how the book ends," she notes, speaking about the unfolding of life. She wants people–particularly women–to know that making changes or pivoting is something we're all capable of doing, even later in life. 
For a franchise that traffics in sometimes-delicious drama, pettiness, and one-upmanship, the Real Housewives has an interesting history of launching the careers of many women. Some of those careers are in the much-maligned-but-nevertheless-lucrative social media influencer realm, with others capitalizing by building a brand in the arena of fashion, food, or alcohol. And many write books and host podcasts. But for Medley, what came as a pleasant surprise was the fact that her fanbase gave her a platform from which to create a positive bully pulpit. In her podcast, Medley often takes time to listen to people who call in with a wide variety of problems, some of them despondent. "We even had someone call in who was talking about suicide," Medley tells Marblehead Beacon. What she believes makes all the difference–including in that particularly difficult call–is the simple act of listening. "I've always been a good listener," she says. And listening to and talking with people about their stories of grief, loss, and other matters that plague all of us is something at which she's a natural.  
Medley is incredibly close with her parents, and credits her mother, a Catholic who attends church daily, with instilling strength and values in her. "My mother is the one behind most of my one-liners too," she says. In fact just recently Medley's mom laid, "he roars like a lion but bites like a flea" on her. 
"I am a huge fan of Dorinda," says Chee Kwong, who drove in from the Back Bay to meet Medley. She and Kim Emmeride and Ashley Burse of Swampscott came to the event together, excited to meet and get a photo with Medley. Kelly Keaney of Marblehead came to the event with a hard copy of Make it Nice in hand. "I want to get her to sign my book," she says.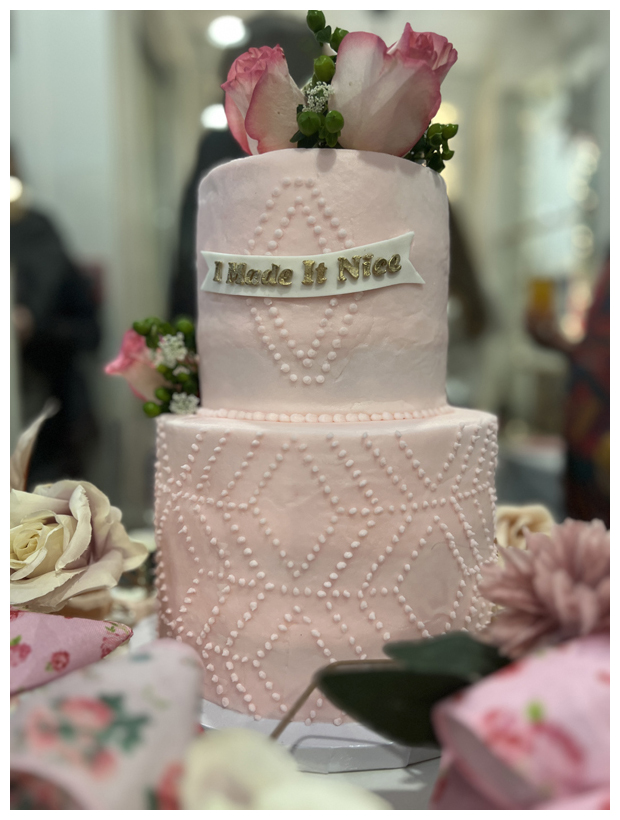 Chic Streets owner Julie McGonagle, with the help of longtime friend Stephanie Greenfield and Parsons student Nicole Kadourov, set up the evening with a massive flower wall as the backdrop for photos, a "Make it Nice" cake, and jewelry and clothes on display. Medley had reached out to McGonagle recently to tell her that she would be visiting her daughter–who is getting her PhD at Harvard in classics–this week, and would love to be part of an evening at Chic Streets. It is that generosity of spirit, believes McGonagle, that makes Medley so likable.   
The boutique opened in 2020, a step taken after McGonagle got her master's degree at Emerson, worked in Los Angeles in the world of fashion, and found success with local pop-up shops and online sales. Late last year, when Medley was at the Lynn Auditorium for a show with two other cast members (of the New Jersey franchise), McGonagle styled all three. "I met with Dorinda, Theresea Guidice, and Dolores Catania at the Mandarin Hotel in Boston," she says. McGonagle brought the women a rack of clothes that she had hand-selected, and took with her a trusted hair and make-up team, getting the three fully ready for their show. 
It is unclear what Medley's future looks like vis a vis the Real Housewives of New York, though "pause" likely does not mean "over." But one thing is clear: Whatever lies ahead of Medley, she will muscle through, and likely come out on the other side with a clever new one-liner.