Smith, Thompson, and Armini Lead the Pack in Fundraising
With town elections behind us, Marblehead is ready to look ahead to the September 6th primary. Unless a GOP candidate parachutes into the state representative match as a write-in candidate, this is a race in which the winner of the Democrats' primary will be the effective winner of the general election.
Six candidates are vying for the seat vacated by Lori Ehrlich when she left to take on the role of Region 1 Administrator for the Federal Emergency Management Agency ("FEMA"). Ehrlich had been the State Representative for the 8th Essex District for 15 years when President Biden tapped her for the FEMA role. 
The six Democrats–all from Marblehead and Swampscott–are running for the seat that covers both those towns as well as two precincts in Lynn. On September 6th, Democrats and unenrolled (independent) voters may pull a Democrat ballot and take their pick among the candidates. 
Of the six candidates, three live in Marblehead: Jenny Armini, Diann Slavit Baylis, and Terri Tauro, while the other three reside in Swampscott: Tristan Smith, Doug Thompson, and Polly Titcomb.

With fewer than sixty days left before Primary Day, and ahead of our in-depth coverage of each candidate's platform and background, Marblehead Beacon assessed the fundraising positions of the six as of June 30, 2022, examining how much each has raised, the origins of the money, types of donors, and more. Additionally, we discussed with each candidate his or her fundraising strategies. 
In total money raised, Smith, Thompson, and Armini are leading the pack, with Tauro, Titcomb, and Slavit Baylis lagging behind. We asked the race's top money raiser how he has–at just 26 years old and freshly graduated from law school–been able to bring in more than $56,000 and outpace his more experienced opponents. Smith said that he is working extremely hard, has a team of vibrant, young volunteers, and is knocking on doors just as his five opponents are doing. He did acknowledge leaning on the strong network built by his father, a former four-term state representative who has been a registered lobbyist for many years. "I am thrilled to be in the lead with fundraising," said Smith, "but I'm actually happier with the reaction we have been getting door to door talking to people."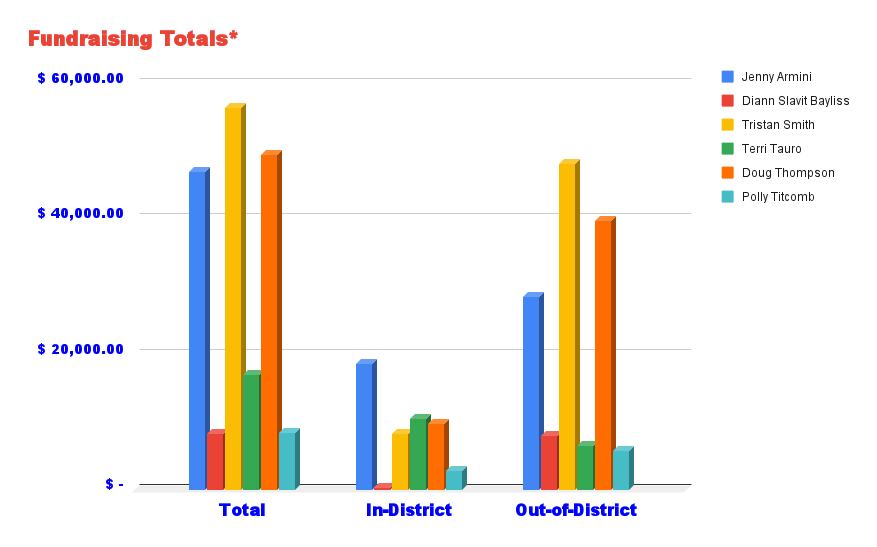 Fundraising is often–though not always–a strong indicator of a candidate's support and likely election success, but not all candidates believe it should be that way. Titcomb, who ranks fifth of six in fundraising, would like to see money not play such a significant role, rejecting what she believes to be an unfair barrier to entry for those candidates who are not personally well off, though Titcomb disclosed that in early July (after the period covered in the graphs) she loaned her campaign $5,200. She does believe that apart from money, her hard work on the campaign trail will pay dividends, and hopes that "the financial outcome in [her] campaign will mirror the positive reinforcement [she's] received," talking to voters.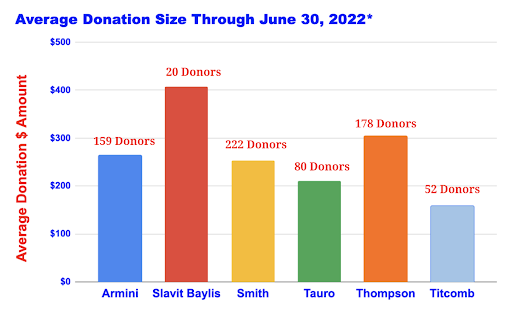 All six candidates have received contributions from both in-district and out-of-district donors. As of the date Marblehead Beacon used for our analysis (June 30, 2022), Smith has received the most money from out-of-district donors, followed by Thompson and Armini, both of whom have raised substantial funds from outside the district. 
Thompson does not consider out-of-district fundraising to be a negative, interpreting this support as reflective of his "long career with large organizations and 25 years as a professional leader." He adds that many people around the state and across the country have "seen [him] in action," and have thus been willing to support him financially. Additionally, he notes, "the most meaningful contributions are the $25 and $50 ones that show that people want to get behind what I'm offering." 
Armini, who is far ahead of her five opponents with in-district fundraising, believes a substantial local donor base can be a bellwether for success. "Fundraising reflects the character of a campaign," she says. "In my case, I'm focused on grassroots and the community that represents the Eighth Essex District. My results reflect that with mostly in-district donations." 
For Slavit Bayliss, having lived in the district for under a year is not something she views as a major impediment to success. "I have enlisted many volunteers," she said, and views her door-to-door efforts as having a significant positive impact, particularly in terms of lawn sign coverage, which is evident to anyone driving down Atlantic Avenue in Marblehead and Swampscott. According to more recent state filings, Slavit Baylis's fundraising pace has accelerated in July, and she says she is looking forward to the last two months of the race, with house parties and coffees planned.
Loans and Self Funding
It is not uncommon for candidates for political office to contribute to or loan their campaigns money. In the case of this race, five of the six have now done so, with Armini, Tauro, and Titcomb each loaning their campaigns money, and Thompson and Smith both loaning and donating to their respective campaigns. Slavit Baylis has neither loaned nor contributed to her campaign, but her husband has donated $1,000.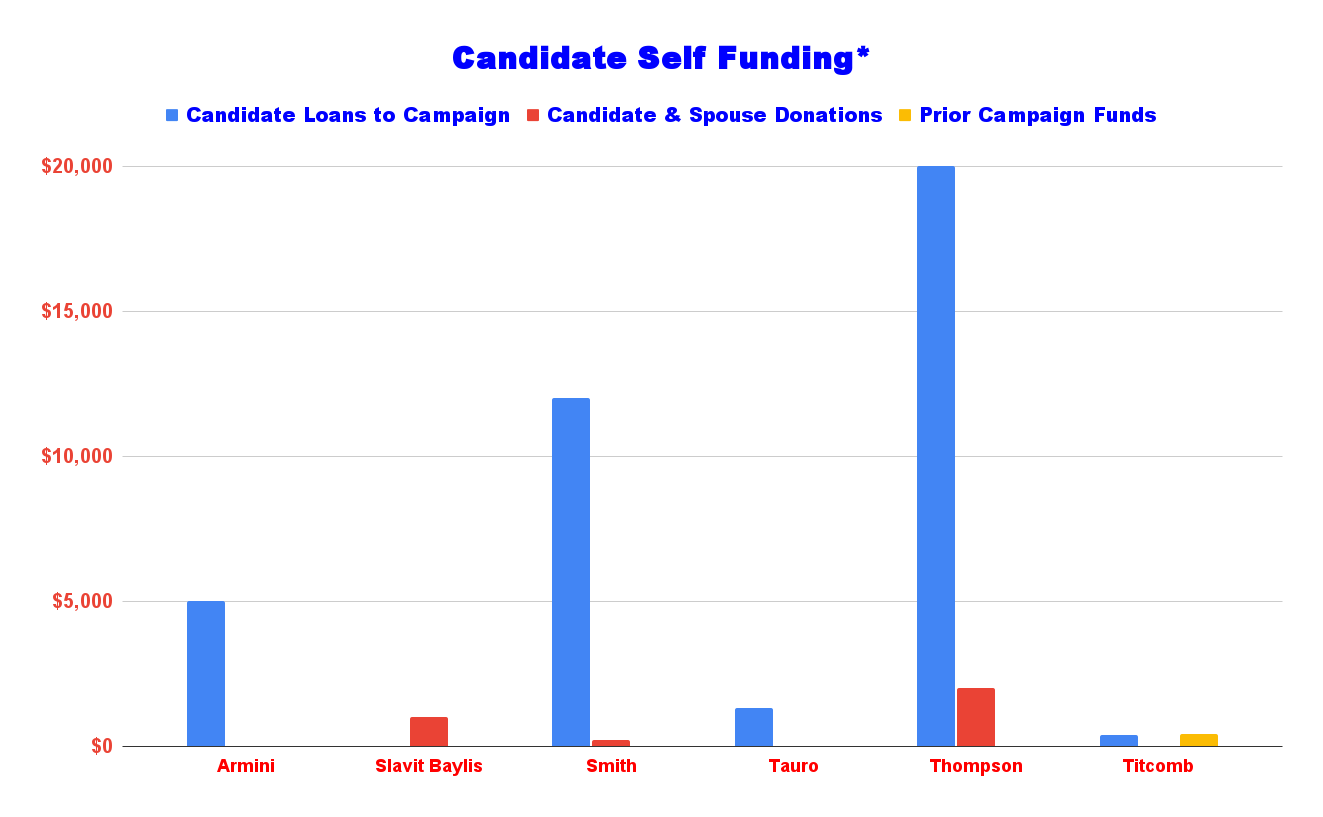 Commenting on her decision to loan her campaign funds, Titcomb said "I am a single mom of two young kids and work full time, but I can't ask people to invest in me if I don't do so myself." She disclosed to the Marblehead Beacon, as noted above, that after the reporting period for this article, she loaned her campaign additional monies. Tauro similarly feels that the inability to self-fund should not be a barrier to running, though she loaned her campaign approximately $1,300 shortly after announcing her candidacy.
In political campaigns, loans are often tantamount to donations, but not always. For instance, should a candidate loan her campaign a sum of money and then win the race, she may hold a post-election fundraiser to pay down the debt. In the case of those who make a loan but do not prevail on election day, it is often difficult–particularly in such local races–to later raise the funds needed to repay candidate loans.
In rare cases, unspent monies remain at the end of a campaign, in which case candidates who loaned themselves money may repay some or all of what is owed out of their existing coffers.    
Fundraising in Marblehead
Marblehead donors have contributed a combined $33,000 to Armini, Tauro, Thompson, and Smith, while Slavit Bayliss, and Titcomb had not received any from Marblehead residents as of June 30, 2022. Armini has received more contributions from Marblehead donors than all her opponents combined, something of which she is particularly proud. Tauro is in second place, garnering most of her donations from Marblehead donors, which she attributes to the connections she has to the town in which she was born and raised. "I think the number of donors in Marblehead who have sent me donations, particularly the smaller ones that I am so proud of, are a great reflection of how people feel about me." She adds that her platform as a longtime Labor leader has allowed her to help many of her supporters over the years, including those she represents in union matters.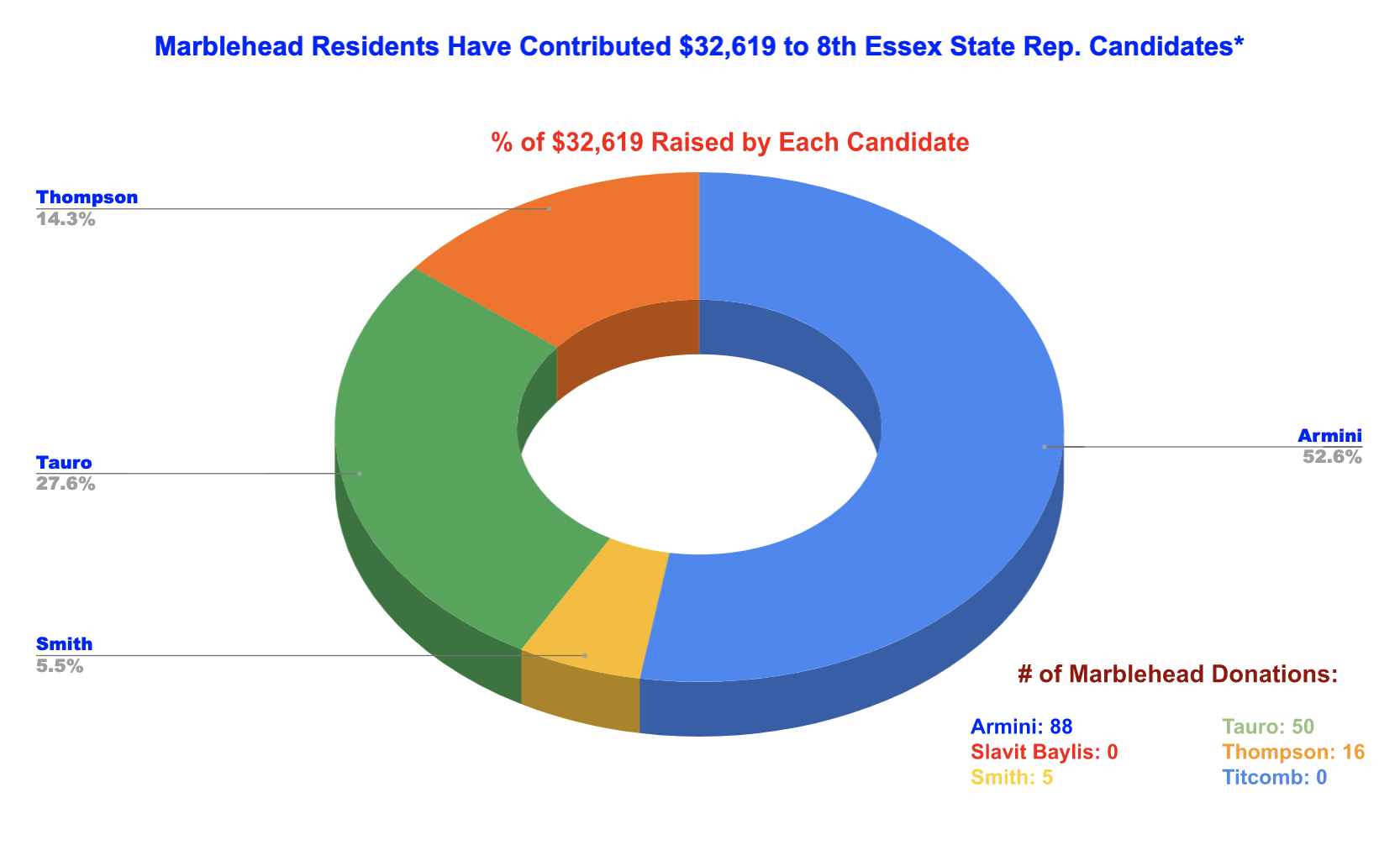 Lobbying Dollars
In Massachusetts, registered lobbyists are limited to a donation of $200 each per primary race. Smith has accepted money from lobbyists registered with the state, but is not the only one to tap into lobbying dollars. Armini, whose contributions from lobbyists include one from her former boss, Governor Jane Swift, is not turning away lobbyist contributors, but says that the only lobbying money she has received has been from longtime friends or colleagues. 
Thompson initially told Marblehead Beacon he was not aware of having received lobbying money, but later contacted us to say that he discovered that two of his contributions amounting to $300 were from registered lobbyists, both of whom are his friends. He told Marblehead Beacon he will be returning the money and is pledging not to accept lobbying dollars for the remainder of the campaign. Though Slavit Baylis and Titcomb are not categorically rejecting lobbyist money, they have not to date raised any money from lobbyists. Tauro similarly is not pledging to forgo contributions from lobbyists but noted that to her knowledge she has only received one and it is from a friend. 
Tauro, however, has raised substantial funding–more than $3,000–from labor unions and their Political Action Committees. Pledging that she will not be beholden to organized Labor, Tauro told Marblehead Beacon that her union experience allowed her to build negotiation and other important skills, but is not an indicator that she won't represent other constituent interests. 
Campaign Spending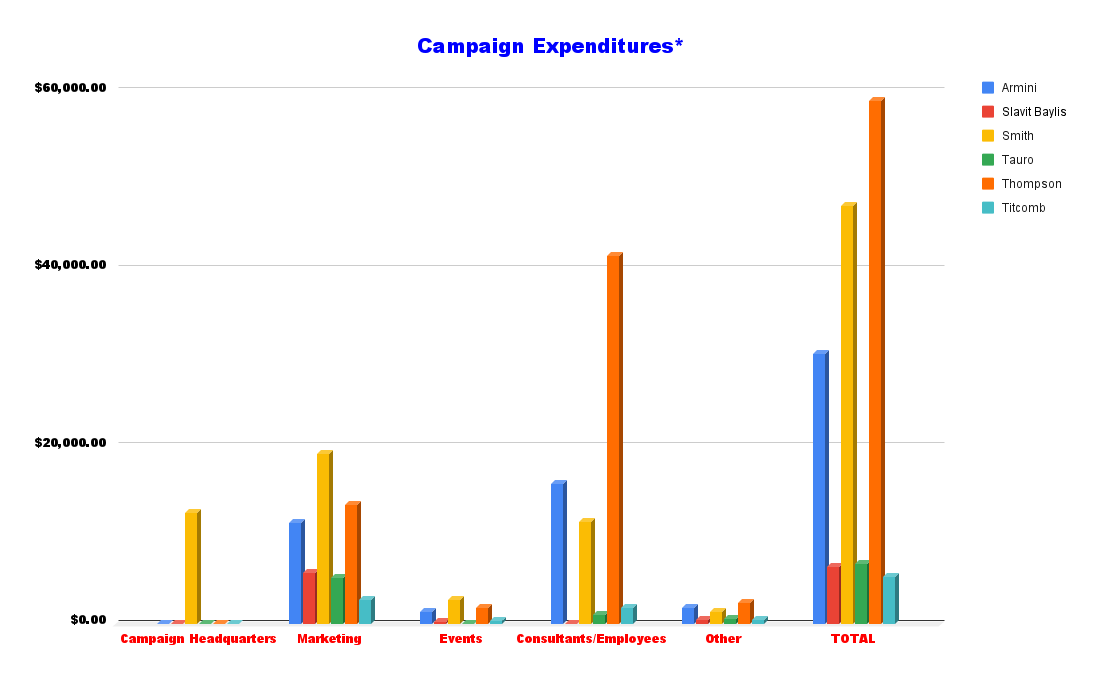 Running for State Representative is an endeavor that generally requires direct mail, a strong online presence, face-to-face interactions with voters, fundraising events, and much more. Most of these require not merely sweat equity, but money. With most of the candidates' forecasted budgets ranging from $40,000 to $70,000, value-added spending is critical.
In terms of consultants and employees, Thompson has spent the most of any of the four other candidates who have paid for such help (Slavit Baylis has not spent any money in this category). However, Thompson is also the only candidate who pays his campaign workers as employees rather than as consultants. "We believe that is the right way to do this under law regarding consultant versus employee," he says, adding, "I don't know what other campaigns are doing. But if people are taking direction on day-to-day tasks then I believe they should be paid as employees." 
The bulk of the spending for most of the six campaigns is on consultants or employees, signs, and mailings. With the exception of Smith, who has spent upwards of $12,000 on the rental of a campaign headquarters on Humphrey Street in Swampscott, none of the candidates has a brick-and-mortar location. "People have come in off the street to inquire and volunteer," says Smith of his outlay of money for rent, and he believes that having a headquarters for volunteers to gather makes the steep cost worthwhile.
Although Slavit Baylis lags behind the other five candidates in funds, she is proud of the lean campaign she is running, with her husband, Angus McQuilken, serving as her campaign manager. She is also the only candidate with no consultants or employees on the payroll. McQuilken has been involved in Democratic politics for decades. 
With just under 60 days remaining in the race, cash on hand is something to which every candidate plays close attention. While some have spent most of their war chests, others have spent more conservatively or received enough in donations to be able to keep more money on hand. Armini, who had the most cash on hand at the end of June, says she plans to be prudent in how she uses the funds raised in order to ensure she has sufficient resources in the campaign's closing days. "I don't need to outraise or outspend my opponents," she says. Smith has almost as much money on hand, and plans for a busy final two months.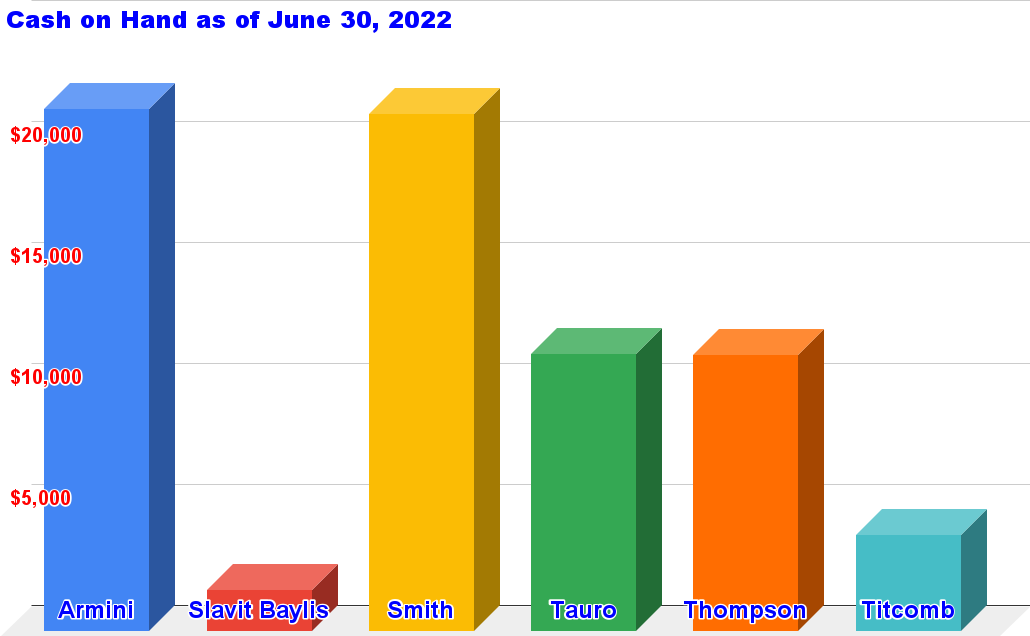 All candidates have been going door to door in Marblehead, Swampscott, and Lynn as part of their strategy to have voters get to know and support them, and all have held some version of a kick-off event. Each has multiple events planned for the sprint to September 6th. 
As the race heats up ahead of Election Day in just under two months, stay tuned for Marblehead Beacon's coverage of the six campaigns. 
Editor's Note: The author of this story, Lena Robinson, and her family have been close to Jenny Armini and her family for more than 25 years. Robinson's husband, Dwight Robson, has donated to Armini's campaign. Additionally, Marblehead Beacon co-founder Jenn Schaeffner is on the steering committee of the group PowerUP!, on which candidate Terri Tauro serves. Prior to launching Marblehead Beacon, Schaeffner contributed to Tauro's campaign.