Star World Championship Day 2: Jørgen Schönherr Would Not Give Up
Written by Tom Dailey
If you would like to submit a piece to Marblehead Beacon for possible publication, please click here. 
The winning boat is bow number 73, which has "DEN" written on its sail as well as number 8532. Additionally, bow number 81, sailed by Tomas Hornos & Mauricio Bueno, has the number 1981 on its sail. Finally, bow number 49 has a sail with the number 2009 and is sailed by George Szabo and Guy Avallon.
The 100th Star Class World Championship, hosted by Marblehead's Eastern Yacht Club , boasts 18 former world champions in attendance–not counting the scores of other Olympic and world championship medals held by the 84 competitors. This is, without question, the most competitive sailing regatta, and the action on the start line proves it.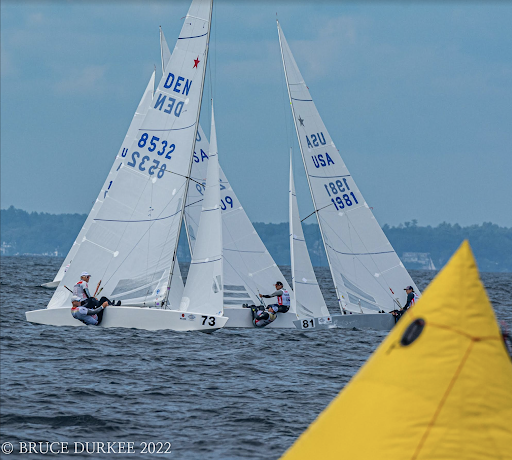 The class honors its 18 champions with a gold star–literally. Each sailing class has its unique insignia emblazoned on sails, and in this class, it is, of course, the star. Across the fleet one can find everything from a beginners' red, to green, blue, and silver stars designating various levels of achievement. And then there is the gold star, reserved for Olympic and world champions.
Witness Wednesday's Day Two starting line as time is running down before race two: In the five-minute cage fight just before, boats are permitted to cross a virtual line between large anchored vessels, and teams either joust to protect their spot on the line, or hunt for a front-row gap they can fill.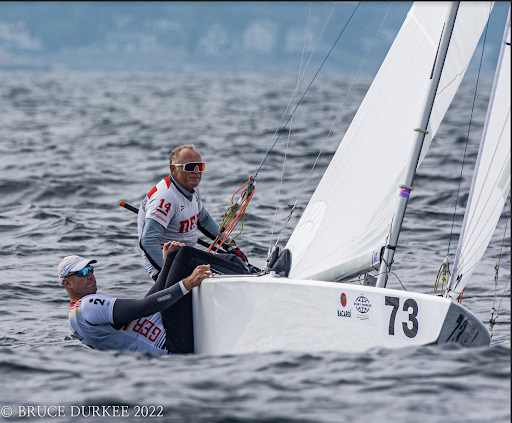 It's the hunters who cause trouble because–like an airplane wing–a sail requires wind on each side, and when Jørgen Schönherr (Denmark) made his move on a gold star sailor's gap, both knew what was at stake: everything. 
Most sailors will avoid confronting a gold star–out of respect if not fear. By simply being there, a gold star owns his space. He wants it. All agree he shall have it. Simple as that. Starting near–but not too close–to a big dog is an honor for the little guy, and back ashore the encounter is very likely the basis of an untrue story. 
Enter Schönherr and teammate Markus Koy (Germany) with their little red star. Schönherr, a four-time world champ in his own right–but not in this league–was hunting when he sprinted toward a fat gap foretelling a fight. Would the gold star yield?
Sailing prophets have said one cannot win a race at the start, but one can surely lose it. Schönherr must have been absent that day. 
Schönherr took up his sword–the rule that says a boat upwind must stay clear of a boat downwind–and raced to gain the downwind position. The gold star swung his shield around, accelerating to keep Schönherr from establishing the leeward overlap he sought. 
But wait! There's too much clock and not enough runway before the end of the line. Both chickens do the math. Schönherr balks, heading up sharply, calling off the attack. Gold star stands down… but… Schönherr is not blocked… once more into the breach! It worked. Schönherr had kept enough speed to dive once more, while the gold star sails stalled out, and his gap was surrendered. Asked later how he summoned the chutzpah, Schönherr said, "we had to show him we would not give up." And with that, time expired, Schönherr squeezed through the gap and over the end of the line, and led the two-plus hour race from wire to wire.
Marblehead Beacon Contributor Tom Dailey is a Marblehead resident and East Coast sailor and skier.