State Rep Armini Provides Legislative Update to Board of Health
A broad agenda at October 10, 2023's Board of Health (BOH) meeting included two votes, discussion of multiple matters pertaining to Marblehead's transfer station, and sparring between the newest BOH member Tom McMahon and BOH Chair Helaine Hazlett. Also presented at the meeting was an update from State Representative Jenny Armini on the state legislature's pursuits in its current session, particularly those that might have relevance for Marblehead. 

Mental health and substance abuse prevention, a new bottle bill, plastics, and mattress disposal
On Armini's roster are matters related to the environment, mental health, and substance use disorder. "I'm learning all about solid waste in my new job," said Armini, who sits on the Joint Committee on Environment and Natural Resources. She highlighted some proposed legislation that could impact Marblehead. 
Several bottle bills are on the table, Armini shared, which in years past have been "punted" due to competing interests. This year, she believes, legislation will come together to encourage more recycling of bottles by expanding the types included as well as increasing the redemption amount returned to consumers. Popular beverages like vitamin and sports drinks as well as non-carbonized water bottles and the small alcohol shot bottles known as "nips" currently are not redeemable, but could make their way into any final legislation.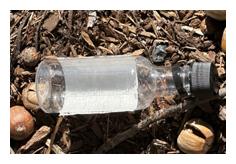 As things stand, the original Massachusetts bottle bill from 1983 offers five cents for each redeemable bottle. Though the bill has been amended over the years, the five cent redemption amount has never changed, nor have many commonly purchased bottle types been added. Health Director Andrew Petty noted that many of these can be seen discarded around Marblehead, including nips, which Armini said are "a scourge." She anticipates that when the final House bottle bill comes to the floor, nips will be included.
Also being considered, said Armini, is legislation that would place some of the burden of the disposal of things like mattresses, cardboard, and possibly non-latex paint, onto the producers. "Producer responsibility," she said, would require producers to accept the return of these items rather than leaving their disposal costs in the domain of the consumer.
In a related update, Petty noted that on November 18, 2023 Marblehead will host its annual Hazardous Waste Day, where residents may dispose of their household hazardous waste. 
In discussing additional matters pertaining to the environment, Armini noted that recently Governor Maura Healey had used an executive order to—in the first of its kind across the nation—ban the purchase of single-use plastic bottles by executive agencies and departments in the Commonwealth. This unilateral order also encourages that the same be done in municipalities across the state. "All Massachusetts quasi-public authorities and boards are encouraged to adopt their own plans to eliminate their purchasing and sale of single-use plastic bottles," reads the executive order. 
Petty registered his concern about emergencies in which using single-use water bottles might be imperative in Marblehead. While the language of the executive order provides exceptions for emergency situations, it is unclear if and how such exceptions would be applied. 
Armini noted that other considerations in possible environmental legislation would be focusing on the small containers included in take-out from food establishments. By way of example she said that with respect to the bag of condiments provided with each order by the local Chinese restaurant Fen Yang, "rather than [the restaurant] throw[ing] it in, you'd have to ask for it."
Armini also provided an update on several developments related to mental health funding. In August 2023, Governor Maura Healey vetoed $1.4 million of funding to the non-profit Samaritans for its suicide-prevention services. Samaritans, according to its website, has handled some three million phone calls, texts, and chats from individuals who are struggling, and also supports survivors of suicide loss. It relies, in large part, on state funding to support programs such as its popular "Hey Sam" peer-to-peer texting service. 
Armini and most of the legislature overrode Healey's veto and restored funding to Samaritans. "I think [Maura Healey] vetoed it because she didn't quite understand how unique of a program it is, how effective it is, in teens reaching teens," said Armini. 
On a related note, she said that she and State Senator Brendan Crighton were able to secure for Marblehead Counseling Center (MCC) a funds earmark. Though only amounting to $25,000, she said, the funds could be used—for example—to offer bonuses at MCC that are important for attracting talent. 

Armini also is working to have a suicide hotline number printed on the back of all student-ID cards, and pointed to the hundreds of thousands of dollars in the state's new budget that is geared toward mental health services. 
As fatal opioid overdoses continue to plague the Commonwealth—including multiple in Marblehead—there have been efforts made to provide more individuals with Naloxone (also known by the brand name "Narcan"). Petty noted that so long as either he or the health department's nurse is present in the Mary Alley building, any resident mar request Narcan and will be trained on how to administer it. 
Armini also thanked McMahon for his efforts to make fentanyl-detection strips available to the community. Fentanyl is the highly potent and often deadly synthetic opioid that is present in street pills and heroin, and detection strips are now available in a mailbox outside the Mary Alley building. 
Editor's Note: The son of the author of this article was a longtime volunteer Befriender at Samaritans and is now employed part-time by Samaritans as an Overnight Helpline Coordinator.