Stolen Antler-Handled Knife, Unexplained Lead Foot, and Swiped Playstation
Police Log December 7, 2022 to December 20, 2022
December 7, 2022
A resident residing on West Shore Drive attempted to turn left out of her driveway and onto the road. She said that the gas pedal got stuck, causing her to lose control of the vehicle. The car sped across West Shore Drive, drove over the curb and sidewalk, and ended up in a swampy ditch surrounded by trees and shrubs. Fire department personnel were needed to assist the driver out of the car. A witness to the incident reported that she had been driving outbound on West Shore Drive when she saw a vehicle come speeding down a driveway toward her. Concerned that the car would not stop, the witness sped up to get out of the way, after which the car emerged from the driveway, narrowly missed the back of the witness's car, and ended up in a ditch across the street.
**********
At approximately 8:30 p.m. police were dispatched to The Riptide Lounge after a caller in a neighboring apartment said she'd seen some activity outside the bar. Police on the scene spoke to her while other officers went into the bar. The neighbor stated that she'd been smoking outside her bedroom window when she observed a man outside the back of the lounge berating a young child. She reported that she could hear the child crying as the man yelled at him with [REDACTED] profane language. She also stated that the man yelled at the boy to "stop saying I'm hitting you" and that the boy said, "but you did." She provided a description of the man and the child, and reported that she believed they'd gone back inside the bar.   
Officers on scene located a man and a boy fitting the caller's description, as well as a woman who was the mother of the child in question. Officers then spoke with the parties. The man in question is reportedly the child's stepfather. While police spoke to him, the child's mother began to interfere, seemingly angered and annoyed by the police presence. She stated that nothing had happened other than the boy having been there with her husband to eat dinner . When the child became unruly in the bar, she believed it had been appropriate for the stepfather to remove the child to discipline him. She was asked if she had been outside when this discipline took place and stated she had not been. Police advised her that a caller had made a report, and the mother stated that police should believe her over the witness, and that the boy had confirmed that nothing had happened. Police asked her if she believed it was appropriate for her husband to have called her son vulgar names and to have sworn at him, and she said, "Why not? He talks to us like that." 
Police spoke with the stepfather, who insisted he had not hit the child and, though he'd had two vodka drinks earlier, he was in an adequate condition to look after the child. Police spoke with the child, and he relayed that he had not been hit, and when visually inspected, showed no signs of physical harm. He also stated that he felt safe at home. Both adults were advised that the Department of Children and Families (DCF) was being contacted, and both were visibly agitated by that information. The woman stated to one of the officers, "Oh, I remember you from before....you pulled me over once." The stepfather muttered under his breath. When asked what the plans for the child were, the mother stated, "He will be going home and going to bed which he should have done an hour ago but couldn't because you guys were here." The child was left in the custody of his mother, and DCF was contacted. 
**********
At approximately 4:30 p.m. a car reported that it had hit a bump-out in the roadway on West Shore Drive and that the car had been ruined. 
December 8
Police took a report at the police station from a woman who stated that she'd been on Tinder and met an individual for a "sugar baby" relationship. Eventually she learned the profile was fake, and she said she felt uncomfortable so severed ties. She later received a threatening message as well as several deposits at her bank that remain on hold. In addition, a box of checks showed up at her home. Police instructed her to contact the credit agencies, block her accounts from the "scammers," and notify her banks. She was also advised to call police if anything further were to occur. 
**********
At approximately 8:00 p.m. a 47-year-old Roosevelt Avenue resident was arrested and charged with driving under the influence of alcohol–second offense, negligent driving, and child endangerment, after an erratic driver was reported at Pleasant and Humphrey Streets.
December 9
At approximately 9:20 a.m. police spoke with a resident of Humphrey Street who said she'd had a prescription filled at Village Pharmacy. She said she'd paid $20 for two prescriptions but had only received one. When she went back on December 9th to request the "XR prescription," the pharmacist told her she'd already received both prescriptions on December 1. The pharmacy staff also alleged, she said, that she may have lost the other prescription and insinuated that people sometimes play games with prescription drugs, like using more than necessary or selling the drugs. 
**********
At approximately 7:30 p.m. police were dispatched to Broughton Road for the report of a neighbor complaint. Police spoke with a man and woman. The woman stated that she and the man had gone shopping and upon their return home they were confronted by a female neighbor who threatened to break her legs if she did not stop harassing her. The complainant further stated that her neighbor accused both her and the male she was with of being child molesters and demanded they stay away from her child. The complainant said she goes out of her way to avoid the neighbor and is afraid this neighbor will harm her or her male friend. She also said she has been subjected to constant harassment by the neighbor and had attempted to get a harassment prevention order but it was not granted. Police reported that she did seem fearful. She relayed that she'd worked with the Housing Authority to have either herself or this neighbor moved. Police advised her to contact Housing again and continue to document incidents and try to avoid the neighbor. 
Police spoke with the neighbor later in the day, and she reported that she'd had another argument with the two individuals. She said she had been having issues with them for more than a year. Police explained the process for obtaining a harassment prevention order, and she stated that she'd head to court the following Monday. 
December 10
At approximately 11:15 a.m. police were dispatched to Beacon Street for the report of a car that had struck a pole. Police noted that a car was positioned in a gravel area off the road at the entrance to Steer Swamp–an area popular for foot traffic during the day. The vehicle had significant front-end damage and was leaking fluid, and the driver was in the driver's seat and unable to explain how he'd driven into the telephone pole. The Fire Department arrived for any needed medical attention. A bystander driving in the opposite direction reported that he'd witnessed the crash, stating that he'd first seen the vehicle operating in the gravel area and then continuing straight into the pole, but he didn't see anything in the roadway that would have caused a problem. The driver did not appear impaired by alcohol. The vehicle was towed and police referred the matter to the Registry of Motor Vehicles for a license suspension request. 
**********
An Uber was dropping off a passenger on Pleasant Street when it was hit from behind by another vehicle. The passenger of the Uber stated that it had pulled over to drop him off. The driver of the other vehicle stated that the Uber had come to an abrupt stop in front of him without warning.
December 11
At approximately 8:40 am police were dispatched to Broughton Road to take a report. A woman said she'd received a phone call on the "text now" app from an unknown number. When she picked up the phone, a woman's voice said [REDACTED]. The complainant stated that she had not answered back, but then a second call came in from the same number. This time, she recognized the voice as belonging to a former acquaintance with whom her family is no longer friendly. In fact, she said, the caller had taken out a restraining order against her sister. 
The complainant went on to say that she believes the phone number in the app to be a "spoofed" number, both because it is not a number in her contacts and because she'd previously received text messages through the app from that same number from a person purporting to be someone else she knew. The complainant does not believe the woman named is the actual woman hassling her because she knows both women's voices. Police advised the complainant about how to seek a harassment prevention order and advised her to block specific phone numbers and to let calls from unknown numbers go to voicemail. Police also told her that they would document the matter and she could contact police if more issues arise. Once back at the station, police ran the phone number the complainant had provided and found that it was registered to a man. 
**********
At approximately 3:15 pm police were dispatched to Chandler Hovey Park to respond to a report of motor vehicle vandalism. The reporting party said that she'd parked in the lot at about 11:30 a.m. and went for a walk into town, after which she returned to her car to find her rear windshield shattered. There was nothing inside or outside the vehicle to suggest how the windshield had been broken. It appeared the window was broken from the outside as the broken glass fell into the car. No witnesses came forward, and the reporting party stated that she did not know who would have done this. The valuables in the car, including a wallet, appeared undisturbed. 
December 13
At approximately 6:45 a.m. police were dispatched to the area of Smith and Pleasant Streets for a report of road rage. Police spoke with an individual who waited at that location. A second individual had driven to the police station to report the incident, stating that he'd been driving inbound on Lafayette Street near Maple Street when another vehicle tried to pass him on the right. There was only one lane, so he accelerated slightly to prevent the other individual from passing him and causing a collision. He stated that the other vehicle then veered left sharply and attempted to pass him on the left, crossing over the yellow center line. He accelerated again, he said, and at the intersection of Lafayette, Pleasant, and Humphrey Streets saw the individual recording him with his phone. He stated that he got out of his vehicle and asked, "what are you doing?" At this point, he said, the men began yelling back and forth. The other individual told police that he'd been forced into a curb by the other driver and stopped, at which point the other man got out and began swearing at him. 
**********
At approximately 9:27 a.m., while traveling inbound on Lafayette Street, a vehicle crossed over into the outbound travel lane, struck a granite curb, and spun out into the road. The vehicle operator was not able to provide an explanation and stated that the incident was a blank in his mind.
**********
At approximately 4:12 p.m. police were dispatched to the Abbot Public Library to take possession of an "expensive looking" camera located on the bench out front. They found an antique Polaroid 150 Land Camera and placed it in a locker at the police station. 
December 14
Police were dispatched at approximately 11:33 a.m. to Reed Street. The complainant stated he had paid a contractor for work to be done, and the work was not completed and not up to code. The owner was advised that if there was a contract he could take the contractor to civil court. The complainant stated that there had been no contract, and that he'd already contacted the Marblehead Building Inspector. Police advised him to get a report from the inspector and file a complaint in civil court. The complainant also noted that the contractor was harassing him and his wife. He was told how to obtain a harassment prevention order and advised to attempt to come up with a peaceful resolution.
December 15
At approximately 11:00 p.m. police responded to Willow Road for a report that someone did not feel safe. 
December 16
At approximately 4:15 p.m. police spoke with a woman at her home on Broughton Road. She reported that she'd ordered a PlayStation 5 gaming system from Walmart and that FedEx had delivered and photographed the item on a bench adjacent to the front porch at approximately 3:30 p.m. on December 12th. When the caller returned home at 5:30 p.m., the package was not there. She had already contacted FedEx to file a lost merchandise report but was still awaiting a resolution. 
December 17
At approximately 1:30 a.m. police arrested a minor on Lafayette Street. 
**********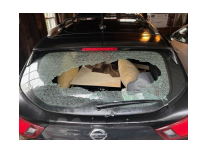 At approximately 9:00 a.m., police were dispatched to Nicholson Street for the report of a car window that had been smashed. Upon arrival, the complainant informed police that her daughter's car had been parked on Washington Street overnight and now had a rear broken window. Because her daughter was at work, the complainant relocated the car to her garage on Nicholson Street. Police walked up and down Washington Street to examine other vehicles and found no others with damage. The caller will contact police if she determines that anything is missing from the vehicle. 
**********
At approximately 11:00 p.m. police spoke with a man who complained about a potential credit card fraud application through Bank of America. He was advised to contact Bank of America about the fraud and also keep an eye on his accounts in the meantime. 
December 19
A vehicle was parked along Lafayette Street when the driver of a second vehicle, traveling inbound, fell asleep at the wheel and struck the parked car. Later, the owner of a third vehicle, which had been parked on Lafayette Street all day, returned to her car and noticed damage all along the driver's side, along with a residue of white paint. It was determined that the driver who fell asleep at the wheel struck and damaged both parked cars.
**********
At approximately 9:30 a.m. police responded to Elizabeth Road for a report of a past motor vehicle breaking and entering. A man at the residence stated that he'd parked his car in his driveway at approximately 8:30 p.m. the prior evening, and when he woke up he discovered that someone had entered his unlocked vehicle and stolen several items. He relayed that he'd heard a vehicle door close early in the morning at approximately 4:00 a.m. The items he reported missing included a Dell laptop valued at $1,000, an antler-handled knife valued at $100, a $100 winning scratch ticket, and miscellaneous coins of an unknown value. While he has security cameras at his home, he was unable to upload the video and would be contacting the provider to get help accessing it. Police advised him to contact police should he discover anything else, and to also see if his laptop has tracking. The case was transferred to the Criminal Investigations Unit. 
December 20
At approximately 11:30 a.m. police were dispatched to Farrell Court for a well-being check. They were alerted by the Marblehead Housing Authority because neighboring units had heard yelling. Upon arrival, police were greeted by an employee of the Salem Housing Authority, working on behalf of Marblehead's Housing Authority. The employee stated that the last time they'd done an apartment check there, the residence was in squalor and the individual working in that residence became angry. Police knocked on the door, and the same person answered as referenced from the past apartment check. This individual was told about the call regarding yelling, and he said he'd yelled because the resident upstairs was stomping her feet, "disturbing his patient." The Housing Authority employee stated that he was doing a "residence check" and was invited in, but the person at the door stated that he believed all the apartment checks constituted harassment. Police then informed him they were only there for a well-being check on the resident, and not for a "residence check." The individual stated that he wished to file a complaint against the Housing Authority and that the unit had improved since the last check. Police left, as the patient/resident appeared to be properly cared for and the Housing Authority representative stated that the unit had, indeed, improved since the last check. 
After police left they spoke with a Marblehead Housing employee via a cell phone, and she asked if police knew the identity of the man in the unit who was working there. Police relayed their understanding of his identity, and when asked about the squalor issue told her that was a matter that Housing had to contend with, not the police. 
**********
At approximately 7:50 p.m. police took a phone call report about identity fraud. The caller stated that he'd been getting emails from stoneberry.com with information about an order of approximately $500 worth of perfume, but had never ordered anything from that site. He had contacted www.stoneberry.com and said he canceled the order and that there were no charges to any of his credit cards and nothing reflected in his credit report. He completed a report with the Federal Trade Commission and was advised to keep an eye on his credit report.  
**********
At approximately 10:15 a.m. police were dispatched to Star of the Sea Cemetery for the report of knocked-over gravestones near the Old Salem Road entrance. It was unclear whether these were acts of vandalism or due to high winds. 
8 motor vehicle accidents took place between December 7 and December 20, 2022, including hit-and-runs with property damage. 
9 verbal warnings or citations for moving violations were issued between December 7 and December 20, 2022.
Editor's Note: Marblehead Beacon highlights certain events for publication, which include information obtained from incident, accident, and arrest reports, and on occasion from court documents and first responders. We do not attest to the veracity of anything contained in such documents, and only publish redacted versions of what are matters of public record. There will be little to no information regarding specifics in cases of domestic violence, matters pertaining to juveniles, incidents in which an individual is taken into protective custody, and select matters that remain under police investigation.

Editor's Note: One of the incidents in the above log was redacted at 12:03 PM to remove information that–while publicly available–was not in keeping with our editorial decisions to redact certain sensitive information.