Tonight's Academy Awards: Marblehead in the House
When the 95th annual Oscars airs tonight, Marblehead will be in the house. Sort of. Marblehead resident and French pastry chef Delphin Gomes along with his business partner – robotics engineer Michael Nichols – run m cacao, a gourmet chocolatier. Together they scored what countless businesses around the country only dream of: having their product placed in the over-the-top "swag bags" given to many of the nominees at the Grammy Awards. And now, just weeks later, the same unique product that went into those bags – the expressio – will be featured in tonight's "Everybody Wins" nominees' bags, along with things such as luxury vacations, high-end cosmetics, and arm liposuction and hair restoration gift certificates. Some reported estimates value each recipient's "swag" at more than $125,000. 
The duo's creation is a video box that comes with a pre-recorded video featuring the nominees' respective movie trailers, along with a curated selection of unique chocolates. "Once they receive it, they can then record and re-record their own videos anytime," says Gomes. And once they have the experience of eating the hand-crafted chocolates, he says, the recipients have something to keep that they may change up with photos and videos as often as they like.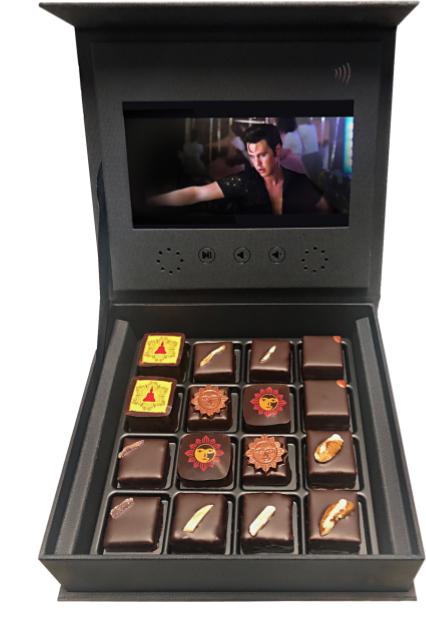 Angela Bassett (pictured below) was one celebrity who had the opportunity to sample m cacao's chocolate creations at the Grammy Awards last month, and now, as an Oscar nominee, will be receiving her own expressio this evening in the award show's gift lounge. Among the many who will tonight be presented with the Marblehead chefs' creation – loaded up with the stars' own movie trailers – are Hollywood A-listers like Cate Blanchett, Steven Spielberg, Brendan Fraser, Ke Huy Quan, and Austin Butler. 
With a career that includes stints at famed Los Angeles restaurants like L'Ermitage, running the Cambridge School of Culinary Arts pastry program, teaching at Boston University, making hand-crafted pastries for and teaching cooking classes at Shubie's Marketplace, and of course his years owning Marblehead's Delphin's Gourmandise (which ultimately moved to Brookline), Gomes is no stranger to the attention to detail required of a master pastry chef. "I don't look at chocolate as candy," says Gomes, "I look at it as food." It is this mindset, he says, that compels the m cacao team to make their own purees, extracts, and even grow their own jalapeno and other peppers. "We have eight different peppers that we grow at a farm in Braintree, and we process them into powder and extract." Gomes's spicy caramels are one of the chocolates they make that use the peppers, but the sky's the limit in the varieties of flavors they create. "We purchase no purees or extracts, so everything is from scratch," says Gomes, and the flavors in their spring collection include lavender, apricot, citrus, ginger, and basil, and coconut.
Gomes met his partner when Nichols came to him years ago as a student at the Cambridge Culinary School of Arts. "He was an engineer who wanted to learn about chocolate." With one robotics engineer and one French pastry chef at the helm, the creation of the expressio was equal parts high tech and handcrafted chocolate, and was designed to reach all its customers, not only the swag bag clientele. "It's actually an affordable and creative gift that m cacao sells online to clients all over, including both corporate and individual," says Gomes.
If anyone spots chocolate in the corner of an Oscar nominee's mouth tonight, there is a reasonable chance its journey there began in Marblehead.