Update: Mary Alley Building on Widger Road Closed as Overnight Break-In Investigated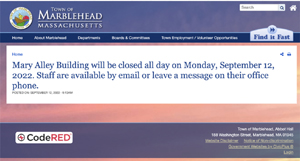 UPDATE: 3:48 PM: 
Earlier this afternoon, Town Administrator Thatcher Kezer spoke with Marblehead Beacon. He noted that when employees showed up to work between 8:00 and 8:15 AM, police were there investigating the break-in that had reportedly happened either late Sunday night or early Monday morning. After the damage was assessed, and after the State Police and Marblehead Police Department had investigated matters, he decided to close the building while clean-up would take place. "We can operate even if we shut down," he said, adding that government operations can continue by having employees work at town buildings and remotely. "It made sense for some workers to go remote [and some] in the field or to use some other space," Kezer said. "Some went to the DPW offices; everyone was able to find their way to work."
Kezer confirmed that the Mary Alley Building should be open for business, tomorrow, Tuesday, September 13.
**********
Shortly after 7:00 AM today, Marblehead police responded to the report of a prior breaking and entering incident at the Mary Alley Municipal Office Building at 7 Widger Road. They observed damage throughout the building and secured the scene. A suspect was also identified. Anthony Graciele, age 57, of Marblehead, will be arraigned tomorrow in Lynn District Court on Breaking and Entering with Intent to Commit a Felony, as well as Malicious Destruction of Property Valued at Over $1,200. 
Graciele also had an outstanding warrant out of Lynn District Court for Breaking and Entering with Intent to Commit a Felony, as well as Malicious Destruction of Property Valued at Over $1,200. 
The offices at Widger Road are being cleaned and business is expected to resume tomorrow. 
The Massachusetts State Police Crime Scene Unit assisted with the investigation of the incident. Detective Sean Brady is leading the investigation for the Marblehead Police Department and may be reached at 781-631-1212 should anyone have further information. 
According to the President of the Marblehead Municipal Employees Union (MMEU) Terri Tauro, information was slow to emerge from official channels this morning. Meanwhile, though, the Widger Road town offices were closed for business and to employees. A sign was posted on the Town of Marblehead's website this morning with no information other than providing notice that the building was closed.
 
"I am shocked and saddened to have to hear through the rumor mill about the break in at The Mary Alley building," says Tauro. Before some information was released by officials this afternoon, Tauro added, "We still await any information at all along with the rest of the town employees and residents. The MMEU is committed to helping in any way possible if we are given the information and opportunity to do so."
Story developing. Stay tuned. 
Correction: 3:07 PM, September 12th: A note was posted online on the Town of Marblehead's page.