Altercation at Maddie's & Portapotty Truck Clips Car
Recently we introduced the Marblehead Police Log to our readers, and have updated our applicable notes as follows:
Police Chief Dennis King, who began serving Marblehead in August of 2021, spoke with Marblehead Beacon recently and noted that he is committed to following the law completely in terms of providing access to accurate police logs. Under his leadership, however, the MPD is no longer offering as much detail as had been provided previously in the log, but is strictly providing information that constitutes compliance with the public records laws but no more.
As is customary with reporting of police logs, Marblehead Beacon will highlight certain events for publication. We gather additional information as needed from incident, accident, and arrest reports, and occasionally from court documents. We publish our findings here.
There will be little to no information provided regarding matters of domestic violence, matters pertaining to juveniles, incidents in which an individual is taken into protective custody, and certain matters that remain under police investigation. 




Police Log: June 25 to July 2, 2022
June 25
Police were dispatched at approximately 11:00 AM for a report of a motor vehicle accident. Vehicle one was reportedly waiting to enter the travel lane on Atlantic Avenue when a second vehicle reportedly sped around the corner from Chestnut Street, causing the accident with damage to the front driver side of vehicle one. Vehicle two reported that once a legal turn had been made, vehicle one had pulled out into traffic, striking vehicle two, causing damage to the passenger side on vehicle two. Both passengers exchanged information at the scene. 
June 26:
Sometime after 9:00 PM, police units were dispatched to Maddie's Sail Loft for a report of a previous assault and a possible fight in progress. The female party who had called the police spoke with officers, stating that a male individual had assaulted her in Maddie's and then fled the scene. With the description of the male as having a ripped shirt, police located him not far from Maddie's. He was observed to have blood on his face, a torn shirt, bloodshot and glassy eyes, and a strong odor of alcohol on his person.  
He stated that an altercation had begun at Fort Sewell earlier when he had attempted to "photo bomb" a female, at which time he stated that she had verbally berated him and he "argued back." The female involved spoke to police and said he'd called her a swear word at Fort Sewell.
The male further claimed to police that in a group text chat that took place after he had relocated to Maddie's but before the female arrived, he'd advised a second male party not to bring the female in question to Maddie's. He stated that the female did, indeed show up, and claims she assaulted him at the bar, though it was reported that his apparent intoxication had made him unable to describe his version of events to individuals at the bar who hadn't seen what happened. Witnesses who did watch the events unfold, as well as the involved female, stated that he, not she, had been the aggressor. Additionally, the bartender noted that the male in question had originally come into Maddie's carrying a beer from elsewhere, which he was made to turn over to the bartender. 
Though both parties declined to pursue charges or to seek medical attention, the female party went to the police station after the incident to tell police "for the report" that the male had sent her male friend a text earlier that evening that allegedly had threats in it.
June 27
Police were dispatched to Miller Plaza area at approximately 7:45 AM for the report of a car that had struck a building. The operator of the motor vehicle told police that she'd stopped to get food after working an overnight shift and, while in her parking spot, she'd hit the gas pedal instead of the brake. This caused her vehicle to jump the curb and hit a trash can, which then pushed the trash can into the side of the Salem Five Bank, causing damage to the window frame and shattering one of the windows. Bank personnel heard the noise from the incident but only witnessed the aftermath.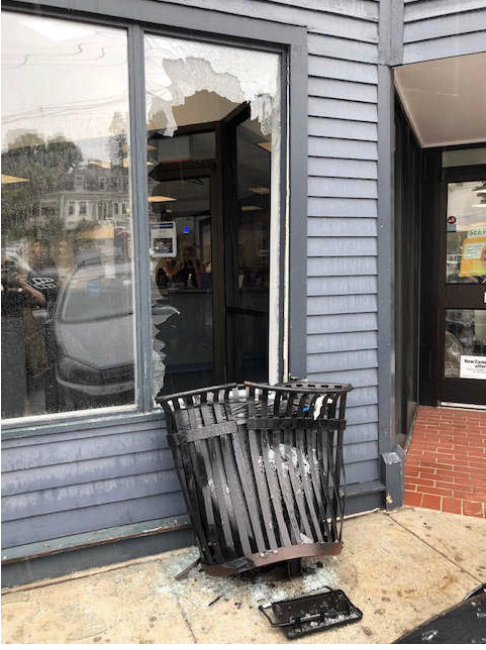 **********
Male came to police station at approximately 9:30 AM to report that he'd been driving his painting company's truck that has his work phone number listed on it. While in traffic he received a phone call from an unknown number, and the male caller said he was three cars behind the painting truck and began "ranting about the American flag on the back of [his painting] truck." Later that day, according to the reporting male, he said he received no fewer than 50 calls from the same individual who'd called him previously. The man continued to "rant about hating America and that he would beat [the reporting male] up." Police offered advice on further actions he could take. 
**********
At approximately 2:00 PM a car was pulling out of a driveway on Pearl Street and a trash-hauling truck was headed in the wrong direction and hit the car, causing damage.
**********
At approximately noontime, a vehicle was traveling outbound straight on Pleasant Street. The operator said she thought she had a green light. A second vehicle took a left turn onto Pleasant Street from Ocean Avenue and struck the first vehicle. The second vehicle's operator stated that she had a green light as well. 
**********
Plants were reported missing on Lime Street.
**********
An attempted larceny was reported on Anchorage Lane.
June 28
At approximately 1:00 PM A motor vehicle was parked on Washington Street when a second vehicle–a "Throne Depot" truck–was traveling outbound on Washington Street and hit the front left bumper of the parked car, causing damage. 
**********
At approximately 8:00 PM, police responded to West Shore Drive at the intersection with Green Street for the report of a motor vehicle crash. Vehicle one was parked in the middle of the intersection with significant damage to the rear of the vehicle. Vehicle two was parked in front of vehicle one on the side of the road, and it had significant front-end damage.
Vehicle one had been driving east on West Shore Drive when the operator slowed down and stopped, attempting to take a left turn onto Stramski Way. Vehicle two had been traveling east on West Shore Drive behind vehicle one. As vehicle one slowed to a stop, vehicle two kept traveling straight ahead and crashed into the rear of vehicle one. Both operators were transported to Salem hospital for unknown injuries.
**********
A police cruiser was damaged by a ball.
**********
An individual on Ridge Road reported email fraud. 
June 29
At approximately 3:00 PM, an officer took a report of fraud. The complainant, a Marblehead attorney, stated via phone that her client had reported to her that someone had emailed her "from [the attorney's] email" address seeking $158,000 in closing costs, and the attorney reported the information from the scammer in detail. The case was forwarded to the Criminal Investigation Division. 
**********
Report of "cars driving like Nascar" on West Shore Drive.
June 30 
Police responded to a report of a burglary and breaking and entering of a motor vehicle on Thompson Road. 
**********
Loud music was reported on Pleasant Street.





July 1 
Suspicious activity was reported at Lighthouse Lane.
**********
Eight verbal warnings for moving violations from June 25 to July 1.
Editor's Note: An earlier version of this police log contained an expletive in one of the entries, as well some specific language used in a text message. We have removed these references. 
To post a comment, please login. If you do not have an account, please create one.