Civil Air Patrol Names Marblehead Student 'Cadet of the Year'
High schoolers who serve as cadet commanders for the local Civil Air Patrol Squadron – the official auxiliary of the United States Air Force – are not easy to come by. But 18-year-old Marblehead resident Andrew Ruocco occupies this rare category. The St. John's Prep junior is a second lieutenant, and just last month he was recognized with a "Cadet of the Year" award from his squadron, along with a Billy Mitchell award for achieving the rank of officer. 
The Civil Air Patrol, says Ruocco, was founded in 1941, six days before Pearl Harbor, in an effort to provide "homefront defense of the sky." Today the Civil Air Patrol's cadet program focuses on development in areas including leadership, character, discipline, and fitness, as well as aerospace education. 
Every cadet is offered five free hours of flying lessons, often conducted by military veteran flight instructors. "I want to be a helicopter pilot for the Marine Corps," says Ruocco, who points to the many ways in which the program offers him an incredible preview of military life. He plans to apply to several prestigious military academies next year. 
As a cadet, Ruocco takes part in history and aerospace lessons, hikes, fitness field days, and trips to history museums. He also is looking forward to a week-long encampment that will be held this summer on Cape Cod's National Guard base – an event he will be staffing. 
Beyond his role with the Civil Air Patrol, Ruocco also serves as president of the German Club, a leader of the Civic Debate Club, and a participant in the Rock Music Appreciation Club – all at St. John's Prep. He is also one of the youngest members of Glover's Marblehead Regiment, a group that conducts re-enactments from the colonial period. 
Many of Ruocco's interests intersect. He is, for instance, a member of the Sons of the Union Veterans of the Civil War (SUVCW), an organization that meets regularly at the Grand Army of the Republic Museum in Lynn and spends time maintaining graves, conducting remembrance ceremonies, and visiting schools to teach Civil War history. As indicated by the name, every member is a relative of a Union soldier. In the case of Ruocco, he is related – on his mother Amy's side – to Phillip Pectol, who served in the 23rd Indiana Infantry Regiment. "He died in the Battle of Chickamauga during the Civil War," says Ruocco, "and he left behind a four-year-old son, who carried on our family."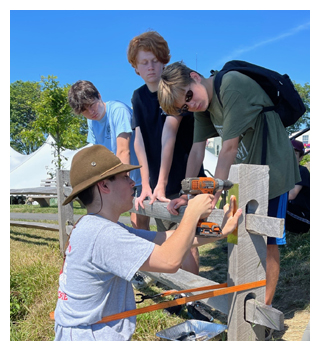 One of Ruocco's longest-standing commitments, however, has been to the Boy Scouts. He earned the rank of Eagle Scout earlier this year. For his final project, Ruocco wove together his lifelong loves of history, scouting, and the fourth of July. In an effort to preserve the memory of Glover's Marblehead Regiment soldiers, he crafted sixteen small plaques to affix to flag poles at Fort Sewell, with each plaque featuring the name of one soldier. In addition, Ruocco developed a plan to protect the Fort Sewell flag pole posts. Each year, on the fourth of July, the scouts participate in Marblehead's unique tradition of lighting flares all around Marblehead harbor. However, the flares tend to degrade the flag poles over time, and all of the poles were recently replaced as part of the Fort Sewell renovation project. Ruocco arranged for the placement of flag holders on all of the posts. The scouts will replace the flags with flares just for the lighting event each year. Ruocco ran a successful trial run a few months ago to celebrate the completion of his Eagle Scout project.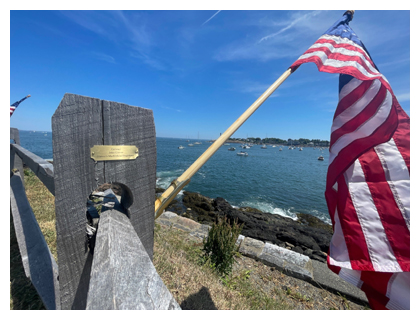 As Ruocco's junior year winds down, he is thinking ahead to summer plans, which include a trip to Germany with his school's German Club, encampments with Civil Air Patrol and Glover's Marblehead Regiment, a week at Boys State, and time spent conducting historical tours of Marblehead – dressed in his Glover's Regiment uniform. 
Editor's Note: An earlier version of this story incorrectly identified Ruocco's relation to Phillip Pectol and indicated that Ruocco was the youngest member of Glover's Marblehead Regiment. He is, in fact, the second youngest member.