The People of Marblehead Have Spoken
Elections always have consequences, but sometimes a confluence of factors makes a particular election more consequential than others. Such appears to be the case with the Marblehead town election that took place yesterday, June 20, 2023.
First, the turnout was substantial for an election in which only local issues were on the ballot. While presidential and other national elections in Marblehead often garner a voter participation rate over 10,000 and as high as 14,000, local elections are generally much lower. This year more than 6,500 ballots were cast, compared to approximately 5,800 last year and below 5,000 in the years prior. Marblehead has 16,322 registered voters.
But beyond the unusually high level of citizen engagement, the most dramatic outcome of this race is the turnover on a number of the most significant town boards.
Murray, Noonan, Singer Lead Vote Totals for Select Board
Bret Murray, who served on the Select Board from 2011 to 2017, ran a joint campaign this year with two incumbents – Erin Noonan and Alexa Singer. Many houses boasted yard signs for all three candidates, and door hangers for the three generally were delivered together. The group also shared a campaign message emphasizing a need for increased transparency, efficiency, and long-term financial management. The top of the ticket ultimately reflected this vision, with Murray earning 3610 votes, Noonan 3775, and Singer 3777.
In winning his seat on the Select Board, Murray displaced long-serving Select Board member Jackie Belf-Becker, who was first elected in 2005. By contrast to Murray, Noonan, and Singer, Belf-Becker communicated to Marblehead Beacon a sense of confidence and optimism about Marblehead's fiscal status and past management strategies, noting that questions about the financial management process "ha[d] been asked and answered," and that she had "complete faith that the town funds are being handled correctly." 
While Belf-Becker won 2624 votes, she was outperformed by incumbent Select Board members Jim Nye and Moses Grader, who earned 3325 and 2950 respectively and will therefore return to the Board along with Murray, Noonan, and Singer. Neither Grader nor Nye responded to Marblehead Beacon's questionnaires submitted before the election. Our questions focused on a number of issues that have received attention in recent months, including the process by which the Select Board handles appointments to the other boards and positions within its purview, the advisory articles passed at the most recent Town Meeting advocating for more transparent governance policies, and the overall status of the town's financial management. 
The newly constituted Select Board will meet this evening, Wednesday, June 21, 2023, at 7 p.m. in Abbot Hall and online via Zoom here. The first item on the agenda is the selection of a new Select Board Chair. Moses Grader previously served in this capacity.
Gold Out, Schaeffner and Ota In On School Committee
The Marblehead School Committee likewise saw the removal of an incumbent yesterday. Four candidates were running for two open seats, and former School Committee member Jenn Schaeffner topped the ticket, earning 3063 total votes. The former Glover School Principal – Ota – came in second, with 2502. Incumbent Sarah Gold, with 2397, did not garner enough votes to hold on to her seat, and candidate Paul Baker brought up the rear, earning 2268. Schaeffner and Ota will join current School Committee members Sarah Fox, Alison Taylor, and Megan Taylor.
Pressing matters for the newly constituted School Committee will include the election of the Chair, Vice Chair, and Secretary for this year, and addressing the consequences of the defeat of the tax override that appeared as Question One on yesterday's ballot. The ballot question was defeated by 3402 to 2992, with 202 ballots left blank. Prior to the vote, Superintendent of Schools John Buckey had published a list of cuts (shown below) that would be implemented if the override were to be defeated, including the elimination of more than 30 staff positions and ending the high school freshman sports program. In an email to Marblehead school families sent today, Buckey reiterated that these cuts will be implemented, writing that, "Without these resources, we have no choice but to make the very difficult reductions we have outlined throughout this process."
It remains to be seen, however, whether a newly seated School Committee will agree with this sentiment. Because the School Committee has direct line-item control over the school budget, a majority vote is all that is required to move resources from one area of the budget to another. In the past, this authority has been used – particularly following an election – to establish new priorities with regard to resource expenditures in the district. While the Superintendent is responsible for managing all school operations, the School Committee by law retains control over the budget.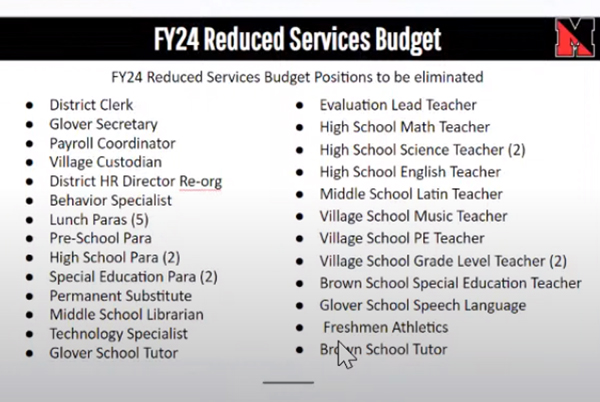 McMahon Joins Board of Health
For the Board of Health, Tom McMahon – long known for asking pressing questions about the status of the transfer station project – earned more votes (2949) than his two opponents combined and almost twice as many as his next closest competitor, David Becker, who earned 1621. Although David Becker was not an incumbent on the Board of Health, he did previously serve and was running for the seat occupied by his son, Todd Belf-Becker, who chose not to run for re-election this year. In his responses to Marblehead Beacon's questions, Becker struck a relatively positive tone about the transfer station project, noting his admiration for "how well the Board and its administrator have been able to devise a recovery plan with existing funds," and expressing his confidence that the transfer station "is and will be a facility that makes the community proud." McMahon, by contrast, made the mismanagement of the transfer station project a central element of his campaign, stating that it "was a failure from the perspective of transparency, project management, and execution," and that "the failure of this project has dug Marblehead into a tough hole," because "Marblehead residents were twice promised a transfer station design, they agreed, fronted the costs, and were not delivered what was promised."
McMahon's perspective clearly resonated with voters, and he now joins the two currently sitting members of the Board of Health – Helaine Hazlett and Joanne Miller. The date of the next Board of Health meeting is not yet posted on the town calendar.
No Change At Municipal Light Department
In the only competitive race this year in which currently seated board members retained their seats, both Lisa Wolf and Adam Smith will be returning to the Municipal Light Commission. Wolf defeated challenger Walter Homan by 3305 to 2485 to earn a three-year seat, while Smith defeated challenger Burke by 2766 to 2468 for the available one-year seat. Wolf and Smith campaigned together, sharing a door hanger in which Wolf outlined priorities of "strategic planning and grid modernization," while Smith highlighted "low rates, reliability, clean energy." The campaign for Municipal Light Department involved many discussions about grid reliability, with all four candidates noting the need to upgrade the town infrastructure before it is possible to implement full electrification or transition away from carbon-emitting energy sources. Wolf and Smith will return to the Municipal Light Commission to serve with currently seated members Michael Hull, Simon Frechette, and Jean-Jacques Yarmoff. The next meeting date is not yet posted. 
Bedrossian Joins Recreation and Parks
For Recreation and Parks Commission, five open seats were available with four incumbents running. Long-serving member Derek Norcross chose not to run this year, noting that "it is time to let someone else get involved." Two challengers entered the race to be that "someone else": Larry Simpson and Shelly Bedrossian. With the outcome of yesterday's election, Bedrossian will be joining the four incumbents on the Commission. Matthew Martin topped the ticket, earning 3320 votes, followed by Linda Rice Collins with 3020, Karin Ernst with 2915, Rossana Ferrante with 2899, and Bedrossian with 2751. Simpson, with 2665, will not be joining the Commission. Topics likely to be raised at Recreation and Parks meetings this year include the ongoing conversation about pickle-ball noise mitigation efforts, the general maintenance of the town's fields, the distribution of the approximately $2 million bequest from Larz Anderson for winter recreation activities, and opportunities to more effectively manage our town's beaches, out-of-towner parking fees, public bathrooms, and lifeguard services.
Abbot Library Trustee and More
In the remaining competitive race this election season, Katherine Barker and Gary Amberik won the two available seats as Abbot Public Library Trustees, with 3221 and 3117 votes, respectively. Rose Ann Wheeler McCarthy did not win a seat, and came away with 1694 votes.
A number of races were not contested this year. Jack Attridge will remain Town Moderator, after earning 4817 votes, with 38 write-ins and 1758 blanks.
John Kelley earned 4380 votes as Assessor, with 9 write-ins and 2224 blanks.
Pam Peterson earned 4444 votes for Cemetery Commission, with 11 write-ins and 2158 blanks.
Theresa Tauro won 4177 votes for Housing Authority, with 20 write-ins and 2416 blanks.
Marc Liebman and Robert Schaeffner won the two available seats on the Planning Board, with 3119 and 3405 votes respectively, with 8 people voting for a write-in candidate and 6694 blanks.
Barton Hyte and Thomas Carroll retained their seats on the Water & Sewer Commission, earning 3604 and 3782 votes respectively, with 8 write-ins and 5832 blanks.
Editor's note: The results included above are based on the fourth update provided by the Town Clerk's office on June 21, 2023. They are slightly different from the numbers Marblehead Beacon reported based on the voting strips posted immediately after polls closed yesterday. All results are unofficial until certified by the Town Clerk.
Editor's note: Jennifer Schaeffner is a founder and editor for Marblehead Beacon but has taken a leave of absence from any role with Marblehead Beacon during her campaign for School Committee.