Marblehead's Amy Carnevale Challenges Embattled MassGOP Chairman Jim Lyons
With not a single statewide Republican win in last November's election, some party insiders seem to have concluded that it is time for the MassGOP to hit the reset button. Marblehead's Amy Carnevale–a Republican party State Committeewoman and government affairs advisor for 18 years with the law firm of K&L Gates–is one of those seeking to unseat Jim Lyons, the current MassGOP Chair. Lyons, according to news coverage in the Boston Herald, has been "reported to state authorities for campaign finance violations," as well as unpaid bills for reported opposition research on then-gubernatorial candidate Maura Healey. The Boston Globe has reported on allegations of ongoing party disarray under the leadership of Lyons, as well as criticism from inside the state's Republican party for his anemic support of local candidates around Massachusetts, his weak efforts to recruit competent candidates, and his behavior managing the finances of MassGOP while at the helm of the party. Marblehead Beacon reached out to Lyons by telephone and email, but has not received a reply as of the time of publication.
Anthony Amore, who ran as a Republican for the role of state auditor last year, believes a solution is needed for what he calls a "degenerative political approach that has plagued the [Republican] party for the last four years." That answer, he believes, is to have responsible, ethical new leadership take over the MassGOP, which would come in the form of Carnevale.
"I've been an advocate for Amy to be state chair dating back months, long before she declared," says Amore. He believes she will "restore badly needed credibility to the Mass GOP," and juxtaposes her against Lyons. "Our current chair refuses to talk to the media, while [Amy] is adept at doing so," he points out. "She offers thoughtful answers to difficult questions and is a seasoned pro when it comes to state and federal politics. That's why the media respects her." 
Clean Sweep for Dems in 2022
Last November, Marblehead extended its trend of voting for Democrats–including for our town's own Jenny Armini as state representative. While Republican governor Charlie Baker proved to be an extremely popular exception (with decided victories in Marblehead in both 2014 and 2018), his departure earlier this month ended any semblance of two-party rule on Beacon Hill or for the 8th Essex District. Marblehead is now represented by a state representative, state senator, attorney general, auditor, treasurer, district attorney, and governor who are all Democrats.
Breakdown of Voters in 01945
In spite of Marblehead's apparent commitment to electing Democrats, the number of registered Democrats in town is dwarfed by the number of Unenrolled voters. As of October 2022, approximately 1,834 of the 16,247 registered to vote in Marblehead are Republicans, 4,309 are Democrats, and a whopping 10,046–significantly more than both parties combined–are registered as Unenrolled.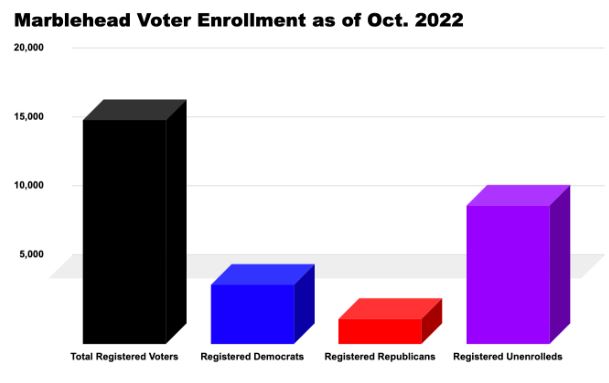 Would Marblehead Elect a Republican? 
The high number of Unenrolled voters in Marblehead suggests that there should be a possibility to galvanize voters to support at least some moderate Republican candidates. But in much of Massachusetts–particularly in Marblehead–Republicans did not even bother running. The race for state representative that culminated in Representative Armini's win last November started off as a six-way primary race among Democrats in which the candidates' answers at public forums, as well as their platforms, were often strikingly similar. 
Who is to Blame for the Lack of Viable Republican Candidates?
Blame for the lack of viable Republican candidates running for open or contested seats is thrown around, with some leaving it squarely at the feet of President Donald Trump for alienating moderate Republicans and independent-minded voters, and others believing that State GOP Chairman Jim Lyons' leadership is at fault. In recent months–as touched upon above–myriad complaints have arisen about the way he has run the state party, including allegations of campaign finance violations and perceived bias against those candidates who were not in lockstep with President Trump–candidates like Anthony Amore, whose photo Lyons did not include on the MassGOP's website of all statewide Republican candidates for the November 2022 election.
Amore believes that Lyons' interest in the "politics of personal destruction" makes him poorly suited to continue to lead the state's Republican party. "Unfortunately," Amore says, "we're learning on an almost daily basis that the MassGOP has been under the leadership of a person who is wholly incapable of managing the party." Worse, he and others allege, Lyons has not played by the rules, and possibly done worse. "He appears to have spent $53,000 on a private detective to dig up dirt on Maura Healey's sex life," claims Amore. "That should offend everyone, regardless of their politics. And now he won't even pay the bill." 
With the finances at the MassGOP front and center in the allegations of mishandling funds by Lyons, the roughly $100,000 salary Lyons commands in his role as Chair rankles some. "If elected, I will not collect a salary from the state party," says Carnevale, who is one of several running to unseat Lyons–some of whom are pledging to forgo a salary. 
On January 31st, approximately 74 members of the GOP's state committee will vote on a number of positions in the party, including the Chair role currently occupied by Lyons. It is unclear how many will be running in that race, but thus far Christopher Lyon (no relation to Jim Lyons), Jim Fetherston, Jay Fleitman, and Carnevale have publicly thrown their hats into the ring.
Marblehead's Carnevale: Hoping to Take the MassGOP in a New Direction
Carnevale has worked out of K&L Gates' Boston and Washington, D.C. offices for almost two decades, focusing on a variety of arenas, including healthcare, education, and workforce issues. A mother of three school-age children–two sons attending Village and Veterans, respectively, and a daughter attending the Brown School–Carnevale is well versed in balancing family and work. "Tom is a full-time dad and the kids' sports manager," she says affectionately of her husband. Between the kids' hockey, cheer, and junior NASCAR competition-related travel commitments, the family stays moving. And Carnevale looks forward to adding "Chair of the MassGOP" into the mix. Her pledge not to collect a salary in that role is made possible by the support of her employer, K&L Gates. "They've been very supportive of my run," she says. "If I were to win, I would adjust my hours as needed for the Chair role." 
Carnevale: MassGOP Must Earn Back the Trust of Voters
Carnevale's highest priority, she says, would be "to communicate that the Republican Party welcomes all residents of the Commonwealth who care about the importance of effective two-party government." She points out that "up and down the ticket we lost races–many of which we could have and should have won. I and others in the state party believe that the leadership at the state GOP was a large contributing factor to many of those races." She is looking to revamp some of the communication tools, including the party's website, which will, she says, "reflect a party that wants to bring in new members and voters." 
There is "a lot of work to do to earn back the trust of voters," Carnevale acknowledges, but notes that her commitment stems from the knowledge that "there are many Republicans in Massachusetts who want to be part of an effort to build an effective state party that can engage with voters." Given that there are significant numbers of Republicans, and even more Independents/Unenrolleds, in our community and around the Commonwealth, Carnevale believes that it is going to be exceedingly important to "advocate and counter…the far-left policies we will be seeing coming from Beacon Hill." She would focus her efforts on helping at the municipal level so that qualified potential candidates would have a support system in place to help guide them, as "our party has been absent for candidates at the local level." 
Carnevale is hopeful that she can leverage and utilize the skills she has acquired through her nearly two decades as a government affairs advisor to help focus the party on "holding the line on new spending programs and higher taxes," and not reverting back to the days when our commonwealth was referred to as "Taxachusetts." 
Appointed by Charlie Baker as member of the Governor's Commission on Intellectual Disability, Carnevale also remains focused on "keeping up important work begun in the Baker-Polito Administration on substance abuse issues and behavioral health," and believes that with respect to education, the long-term effects of learning losses from the pandemic lockdowns will continue to be relevant in future election cycles. 
The MassGOP will hold its election on January 31st. If no candidate secures a majority vote after the first round of voting, there will be continued rounds until a winner is declared.
Editor's Note: Marblehead Beacon left a message in Lyons' voice mail, and emailed him at the MassGOP as well. Neither call nor email was returned. The author of this article knows Anthony Amore and contributed to his campaigns prior to the launch of Marblehead Beacon. One of the author's co-founders and colleagues, Jennifer Schaeffner, contributed to Amore's 2018 campaign. The author and her family have been close to Representative Jenny Armini and her family for more than 25 years. Robinson's husband, Dwight Robson, donated to Armini's campaign